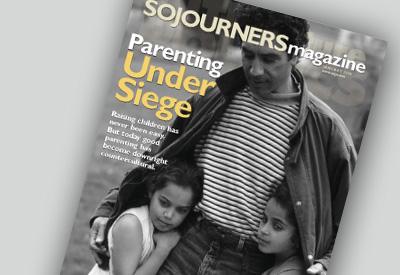 The First Unitarian Church of Burlington, Vermont, sits between two worlds. In front of it is Church Street, a pedestrian mall lined with upscale brand-name stores and boutiques. In back is the Old North End, a low-income neighborhood whose ethnic diversity surprises those who think of Vermont as green, cow-studded, and homogeneous. The neighborhood is home to refugees and people from throughout the state seeking the social services more prevalent in urban areas, such as homeless shelters, soup kitchens, and discount clothing stores.
Old North End is also home to Opportunities Credit Union, whose mission is ambitious but practical: "to build wealth, community, and opportunity through a fair and affordable financial system." The credit union is a creation of the Burlington Ecumenical Action Ministry, an organization started in 1968 to creative effective, not just palliative, programs to address the underlying causes of poverty. Fortunately, BEAM was powered by the considerable financial knowledge and commitment of a group of people who recognized that "social-mission banking" could be analogous to teaching a person to fish.
Fifteen years ago, BEAM—led by social worker-turned-banker Caryl Stewart—set out to determine why so many of its neighbors in Old North End were below the poverty line and what was keeping them there. Through a series of focus groups in which residents were asked about their banking needs, it became clear that although exorbitant bank fees and minimum balances that preclude owning a bank account do not necessarily throw people into poverty, emergency expenses that must be financed at predatory rates, and housing costs that over years preclude any building of equity, keep many people in poverty.
And residents in the focus groups talked about a lot more than money. They spoke of daily anxiety and stress, feelings of hopelessness and worthlessness, their guilt about being poor, of being ashamed that they couldn't "get it together" at times—and of how many traditional banking institutions treated them with disdain because they didn't understand the system and were charged penalties just the same. So when BEAM created Opportunities Credit Union (originally called Vermont Development Credit Union) in 1989, with Stewart as its president, the financial component was only part of the equation. Other components include surrounding members with respect, and providing a counseling-based service that includes education about how finances work and how to make changes in financial behavior.
Now credit union members can secure low-interest mortgages (even on mobile homes, for which mortgages are often denied by traditional banks when they are on leased land); car loans (crucial for job retention in rural areas with few public transportation options); micro-business loans (to encourage sustainable local enterprises); energy efficiency loans (granted in partnership with local utilities that want to encourage energy conservation); as well as the normal range of traditional banking services. They also offer financial workshops and a "tracker loan" system that effectively builds (or more often rebuilds) credit and assets. The motto of Opportunities Credit Union: "We don't say no. We say when."
The approach has been wildly successful. The credit union has made more than 14,000 loans totaling $140 million, with more than a 99 percent repayment rate.
But success isn't measured in dollars as much as by empowered lives and the testament of the credit union's clients—people who previously had found the playing field dangerously tipped against them. The credit union, said one client, "made me feel like a valued customer…. I was not viewed by my income, and they were willing to show me what I need to do and 'hold my hand' so I could get my life back on track." Said another: "It's nice to have someone give you a second chance to get back on your feet after a tough time."
The First Unitarian Church of Burlington, with other religious institutions, has begun to bridge the gap between the two worlds outside its doors. And it is through the credit union that these religious institutions are given an opportunity to move beyond charity to the "true compassion" described by Dr. Martin Luther King Jr.—by helping to restructure the financial edifice that prolongs poverty for so many of the working poor.
Investors in Opportunities Credit Union include foundations, secular and religious institutions, banks, and individuals. They are offered competitive market rates on CD and money market accounts, and far more security than the stock market, since depositors are federally insured up to $100,000 by the National Credit Union Administration.
The Society of Saint Edmund, associated with St. Joseph's Parish and located in the Old North End, is one such investor. The parish also provides volunteer financial counselors and space for training workshops. Its rector, Father Stephen Hornat, SSE, recognizes that moving from charity to advocacy is not easy for communities of faith, yet it's clearly part of what Christ modeled for us. Through sharing, listening, and advocacy, he says, "the poor are teachers to those of us who don't face these same challenges and struggles."
Religious investors also come from outside Vermont. Sister Corinne Florek, who lives in California, manages the Mercy Partnership Fund and has since the early 1970s advised coalitions of women religious orders in what used to be known as "alternative investing." Although by no means do they constitute the wealthiest of the Catholic Church, religious orders continue to play a leadership role in community investment. This role is also prophetic, Florek says. Charity is easy—"I can give it to you, but I don't have to change"—but community investment calls for diverting funds away from traditional investments that perpetuate injustice.
Given the security of the financial investment, the obvious success in addressing the needs of a desperate segment of the population, and the opportunity to better understand and empathize with the working poor, it's surprising that for Opportunities Credit Union, religious institutional investors make up only 6 percent of the total investors (392) and 7 percent of the total dollars ($19.8 million in CDs). This ratio is reflected in other community credit unions. Why isn't the percentage higher?
That there are more secular than faith-based investors could be seen as a measure of the idea's success on the open market. And it's not as if faith-based communities don't continue to play a crucial role in community credit unions. Opportunities Credit Union isn't the only community-based credit union started by a group of church people, and we can assume that many of their individual investors (about 50 percent of investors, in the case of Opportunities), are motivated by their faith.
But why are other religious institutional investors reluctant to become involved in the financial health of the poor—is it because poverty is still sometimes seen as providential punishment for past sins? Is "doing justice" a stand too many churches are still unwilling to take? Perhaps it is simple laziness. Churches know how to administer traditional charity efficiently, with more immediate—and more satisfying—results; people are fed, clothed, and housed. It's more complicated to seek out untraditional methods of compassionate giving, and the gradual rise of a person to more solvency via a community credit union may not be as satisfying to our affirmation-hungry souls.
The most likely reason is that church investment and outreach/ mission committees don't often talk to each other. The former seem committed to making the maximum return on invested money, regardless of the social cost. The latter seem to forget that financial investments can be powerful tools to support worthy causes.
It's unsettling to think that in the interest of maximum return, religious institutions often do harm through their investments. It's equally disturbing to consider the lost opportunities. The Interfaith Center for Corporate Responsibility estimates a combined portfolio of about $110 billion among those religious institutions that make up its membership. The Social Investment Forum Foundation and Co-op America sponsor a campaign to encourage organizations to invest 1 percent of their portfolio into communities. One billion dollars would give a lot of people a leg up.
Although community reinvestment through credit unions is only one type of "mission-related investment" (shareholder advocacy and screening of investments being others), for local communities of faith, it is accessible and effective. Being given the financial opportunity to help correct injustices within our neighborhood communities is an opportunity for grace.
Katharine M. Preston is an ecumenical lay preacher, writer, and workshop leader concentrating on issues of social justice and creation awareness and care. She lives in Essex, New York, where she attends St. John's Episcopal Church.
Interfaith Center for Corporate Responsibility
New York, New York
(212) 870-2295
An association of 275 faith-based institutional investors working for peace, economic justice, and stewardship of the earth. Although they work less directly with local community reinvestment, they remain at the forefront of other socially responsible investment actions, particularly shareholder advocacy. They publish a guide listing some of the larger religious community development investment funds.
The Community Investment Center
Washington, D.C.
(800) 584-7336
The Community Investment Center is a project of the Social Investment Forum, a national nonprofit membership organization that promotes socially responsible investing, and Co-op America. A search engine helps find community investment opportunities by state and/or by social sector impact.
National Community Reinvestment Coalition
Washington, D.C.
(202) 628-8866
NCRC seeks to increase fair and equal access to credit, capital, and banking services to underserved communities through information and advocacy. About one-third of their 600 members are faith-based groups.
National Federation of Community Development Credit Unions
New York, New York
(800) 437-8711
About 35 to 40 percent of its 225 members are faith-based credit unions. It can provide lists of federally insured community development credit unions.
Partners for the Common Good
Washington, D.C.
(202) 689-8935
A community development loan fund that serves nonprofit organizations in the United States and overseas. PCG acts as an intermediary, much like a mutual fund, for investors interested in providing broad support for communities.