Well, that's some magazine so far, eh? Malevolent global corporations, the bleakness of Nicaragua, and the Holocaust. What is this, National Public Radio? I've seen more laughs in a jar of mustard.
By the way, where is my jar of mustard? You can't keep anything out in the open around here. In this office, "sharing the sojourn" means losing half your doughnut to hungry office mates. And don't ever turn your back on a bag of Doritos. The only way to eat chips in this place is to slice a tiny slit in the underside of the bag, secretly remove one chip at a time, and then chew very, very quietly. Passersby think it's an unopened bag. Hah! Fooled 'em!
But I digress (you 're welcome). Let's get back to the serious and important stuff with the Nabob of Knowledge, your Man With the Answers:
"Ask Mr. H'rumphs"
Go ahead, Omaha.
Thanks for taking my call, Mr. H'rumphs. I'm a quality control analyst in Omaha and my question is: Why is there a poetry page in Sojourners magazine instead of, say, a column on quality control analysis?
Poetry is a very popular part of Sojourners, as indicated by the tens of letters we've gotten about it over the past 22 years. But as an enthusiastic and almost annual reader of poetry, i don't see what's the big deal. i mean, is it good writing, or just bad typing?
New York City, you're next.
Yes, Mr. H'rumphs. Can you tell me why your office mate occasionally makes chicken noises?
Ace editor Julie Polter makes chicken sounds (technically known as "bawking") as a stress reliever, particularly during deadlines.
Specifically, she "bawks" 1970s pop tunes, such as "We've Only Just Begun" ("Bawk Bawk Bawk Bawk Bawk Bawk") or "Tie a Yellow Ribbon, 'Round the Old Oak Tree" ("Bawk Bawk Bawk Bawk Bawk Bawk, 'Bawk Bawk Bawk Bawk Bawk"). Her favorite is "Feelings" ("Bawk Bawk").
Read the Full Article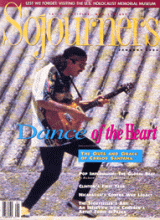 ​You've reached the end of our free magazine preview. For full digital access to Sojourners articles for as little as $3.95, please subscribe now. Your subscription allows us to pay authors fairly for their terrific work!
Already a subscriber?
Login