General Idi Amin, president of Uganda, portrays himself in Idi Amin Dada as a healthy animal bursting with physical prowess, the king of his domain. One is charmed by his bulky exuberance, and by the heartiness of a host showing home movies, while feeling slightly chilled by the pallid landscape surrounding the giant. His people seem like listless wraiths in his live presence, before his monstrous appetite for life.
It is the film's exuberance which gives one pause. In puzzling fact, Amin's monstrosity seems inseparable from his charm.
The filming took director Barbet Schroeder and his French crew only two weeks, although they spent several months on the editing. Amin demanded that much of it be cut, so that, in effect, he controlled its direction. Yet what emerges is the more fascinating for its being a self-indicting self-portrait.
His presence dominates the film. The camera is relentlessly on Amin--Amin showing off, playing war games, playing the accordion, admiring captured arms, telling his dreams, lecturing his cabinet. Shroeder has wisely gone the whole way and allowed the dictator to show us the man through his manners, the bric-a-brac of a larger-than-life self. The ironies are all the viewer's, who alone bears the burden of interpretation. Neither a documentary with a narrator, nor an entertainment film with an imposed design, the film is a documentary comme artwork.
The only continuity provided is the continuity of the self. The viewers begin to realize that they are confronted with all the baggage of a psyche whose self expression has been absolutely unreined: a shock to one's evaluative powers under any circumstances, but particularly so in the passive confines of the darkened theater seat, riveted by the gleaming screen.
Read the Full Article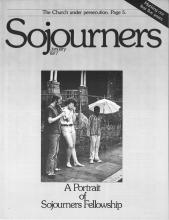 ​You've reached the end of our free magazine preview. For full digital access to Sojourners articles for as little as $3.95, please subscribe now. Your subscription allows us to pay authors fairly for their terrific work!
Already a subscriber?
Login