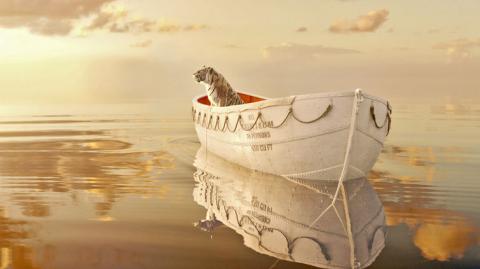 IT'S A STORY that promises to make you believe in God.
A boy, shipwrecked on a lifeboat with a Bengal tiger, repeatedly cheats death and eventually discovers his own self. It's a typical coming-of-age tale, really—except for the whole tiger part.
Life of Pi centers on Pi Patel, the son of a zookeeper, who grows up grasping to understand God. His open heart and willingness to learn lead him from Hinduism to Christianity to Islam. While stranded at sea along with a few escaped zoo animals as company, he continues to explore the meaning of God as he's thrust into dramatic—and at times inconceivable—situations.
Anyone who has read Yann Martel's best-selling book can understand how near impossible it seems to adapt the larger-than-life story into a film—none more so than the person who did just that, screenwriter David Magee. The largest chunk of Pi's journey is a solitary one, save the aforementioned Bengal tiger (named Richard Parker).
In an interview with Sojourners, Magee said he wrote the scenes without any lines for Pi at all, only inserting them where necessary after the fact.
"We didn't want to have some strange conversations with the tiger that he would never have," Magee said.
To work out other ways to move along the story, the filmmakers met with Steven Callahan, an actual survivor of a shipwreck who spent 76 days at sea.
"While he was on his journey, [he] wrote in the margins of a little notebook that he had with a pencil in the tiniest lettering he could, and he tried to keep track of his thoughts and his observations in order to keep himself from going insane," Magee said.
Magee did the same thing in the film and used Pi's journal entries, jotted in the margins of his survival manual, to delve into the character's inner dialogue. Through the written word and the slow dissolving of his one pencil, the days and nights pass as Pi becomes ever more weary.
But the solitude of his journey is part of its beauty. Because the viewer is seeing things through the mind of this creative and open young boy, magnificent pictures emerge. The sky becomes an impossible confluence of colors. The ocean glows green with sea life beneath the makeshift raft Pi builds to stay a safe distance from the tiger in the boat. And a life-threatening, carnivorous tiger becomes Pi's salvation.
As is often the case in real life, the film pivots on the protagonist reaching his breaking point. When Pi has nothing left to give, almost no strength, and absolutely no understanding of why these horrible things have happened to him, he gives everything over to God.
"The zoo is gone, his family is gone ... the only thing he has left confronting him is a voracious tiger who is ready to kill him the moment he lets his guard down," Magee said. "Of course he reaches a point on his journey when he says, essentially, 'God, why hast thou forsaken me?'"
But Pi then realizes that Richard Parker is the one thing that keeps him sane. The constant threat of death is what ultimately saves his life.
In that desperate nadir of anger and questioning, Pi also reaches another biblically reminiscent juncture—the "your will be done" moment. Pi remains faithful to this God he's constructed from various world religions and fully accepts the will of the divine in the middle of his suffering.
Magee said there are clear parallels in Pi's story to those in the Bible.
"There's the obvious beginning of the journey, when he considers himself on 'Pi's ark,' the only one who escapes, and takes the animals with him on this journey ... gradually it turns into Job's story," Magee said.
But both the book and the film pull themes from across the religious spectrum. As a boy, Pi is influenced by the world around him, which leads him to various interpretations of God. Instead of seeing those ideas as conflicting beliefs, Pi embraces them all.
It's in the Hindu faith of his mother that Pi says he first meets God. But then he encounters Christianity and, while wary at first, meets God a second time in the incarnation of Christ revealed to him through an Orthodox priest. Then he learns about Islam, stretching his nonreligious father's patience ever more when he tells him, "I would like to be baptized and I would like a prayer rug."
"There's even a nod to atheism in here. Atheists have a worldview, a point of view; they rely on a story, a narrative to get them through," Magee said.
It's the undercurrent of religion and faith within each story that Magee said the film tries to expose. It doesn't preach, and it doesn't show preference. It just illustrates that each life is a narrative.
"We don't want to say that you should believe in all things and nothing all at once. All of these narratives, all of these stories that we rely on are groping for answers to the same question. And there are more in common in these stories than you might at first realize on the surface," Magee said. "They're all trying to put some sort of order on the chaos and the despair that we confront in our lives, and if you listen to those stories, you can hear the common theme along the journey."
So, is Pi's a story that will make you believe in God? You'll have to see for yourself (in 3-D).
But there's a larger piece here. Are you looking for a story to make you believe in God? Maybe you should look at your own. Each of us has a story to tell.
It's in the journey—with its little miracles and little tragedies, the faces of the people who join our stories along the way, fleeting bits of joy, moments of utter despair that bring us to our knees, and realizations of love—where we glimpse God. And that's where we believe.
Sandi Villarreal is web editor at Sojourners. You can follow her on Twitter @Sandi.