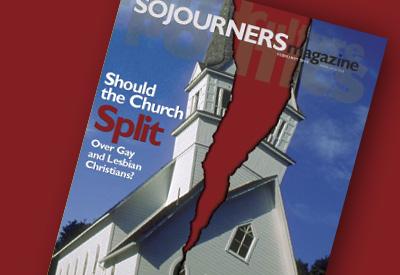 The 5-mile-long border fence dividing Douglas, Arizona, and Agua Prieta, Mexico, is made of sheet metal and steel bars. Floodlights and surveillance cameras line the U.S. side. Rather than stopping illegal entry, the militarized border resulted in the deaths of at least 370 people in 2003.
There have been more than 2,600 deaths at the U.S.-Mexico border since 1994 when the United States launched Operation Gatekeeper, which militarized the border near San Diego. More than 400 deaths were reported in 2002.
In November a "Border Pilgrimage" traveled from San Diego to El Paso, Texas, sponsored by interfaith, church, and humanitarian organizations and anchored by local Catholic dioceses en route. Stops in California's Imperial Valley, the California and Arizona border cities of Calexico, Tucson, Douglas, and Yuma, and the Mexican border towns of Agua Prieta and Mexicali brought home the harsh reality of the region. The deadly numbers were reinforced, again and again.
In each of the communities of faith where the pilgrimage was received and given food and shelter, the pilgrims were told how religious and moral teaching instructs people to extend hospitality to those most in need. Along the border this means the migrants. Border crossers arrive at the door hungry, dehydrated, exhausted, and afraid—after having survived Mexican authorities, the Border Patrol, unscrupulous "coyotes" (who transport people for often-exorbitant payments), sickness, snakes, scorpions, and maybe even militia-like vigilantes out "migrant-hunting."
In El Paso, "Ernesto," a 27-year-old Honduran man from Comayagua, had just arrived at the Annunciation House of hospitality. He told of leaving his family in a desperate attempt to find a way to support his wife and children—impossible for him to do in Honduras with a salary of $50 per week. He was speaking at a podium on a low stage surrounded by many small white crosses with the names of migrants who have died in the crossing—some of them simply inscribed "desconocido" (unknown). Ernesto was overcome with tears as he stood silently looking at the crosses. He said he was worried that he would never see his family again. He said he was grateful that, at least for now, one of those crosses didn't represent him.
Rick Reinhard had lived and worked as a photographer in Washington, D.C., since 1970 when this article appeared.