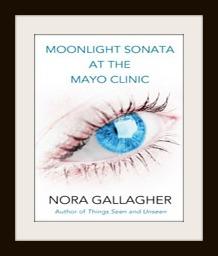 I CAN'T WRITE a completely unbiased, academic review of this book: Nora Gallagher is a friend, and I know the medical world that she must still navigate, and how wonderful it is when you arrive at the Mayo Clinic. This book is for anyone who plans to die one day and wants to live daily with purpose and with a real God. Those who are or have been physically ill will find a kindred soul in Gallagher, while the healthy will wonder how they will handle the sad, sympathetic gazes from others in the pew when their names are placed on the prayer list.
When she is 60, the vision in one of Gallagher's eyes begins to fail. She limits the use of her one good eye for fear of losing sight in it too. Not so bad, you might think—except that as a writer, seeing is key to paying for the medical tests and travel she will endure for two years.
Of course all good patients become writers in a way. At first you take random notes in scattered notepads. Finally you redefine yourself as a full-time patient whose life demands documentation of every symptom and test in a little black book that becomes your constant companion. You have now entered what Gallagher calls Oz, the land of illness.
For Gallagher, Oz is strange. Oz is blurry. She is lonely. She is a patient not a person. Oz has many disrespectful, condescending doctors working in machine-like hospital systems that allow 10 minutes for a consult; they must get to the next patient, not solve the mystery of her now-painful, debilitating state.
In comparison, the Mayo Clinic, where Gallagher eventually goes, is Kansas. Mayo is set up to meet a patient's needs first. There is art and music to calm the soul and mind. I commend to you her descriptions of the place, the people, and the entire thought process of being a Mayo patient. One teaser: There is rarely a line, because the doctors are waiting for her!
This is also a book about marriage: the ebb and flow of a 25-year marriage and how spouses grow old together or don't. Who is the caretaker? Who is the patient? Will Gallagher's husband, Vincent, take care of her? Will he resent that her illness has taken over his life? Who will die first? Who will care for the one left behind? Fear is present.
And this is a book about the church. Religion often teaches us to blame the sick for their condition. The truth is that bad things happen to good people. We shouldn't blame Eve or Adam. Sin is anything that we choose over God, separating us from God. No one chooses suffering over God, yet most of us will suffer at some point in our lives.
Gallagher's Christianity informs but doesn't limit her ability to analyze scripture, the church, and her life experience. She believes in a loving God, but doesn't always understand God's choices. If you have a neat, clean, dogma-driven faith, you may find her questioning unnerving. (If your faith is messy in the vein of Barbara Brown Taylor's Leaving Church, you will want to read other books by Gallagher. A favorite of mine is Things Seen and Unseen: A Year Lived in Faith.)
This odyssey changes Gallagher. She acknowledges this when she writes, "There will come a time in my life when the doctor says, 'I am sorry. There is nothing I can do.' I know this now, not in theory."
We live in a world that denies the reality of death. We attend churches that often spend more time caring for our souls than our bodies. Moonlight Sonata at the Mayo Clinic brings us back to a Christ that heals both body and soul while acknowledging the temporality of our time on earth.
Debbie McLeod, executive director of the Grant Me The Wisdom Foundation, serves on the Yale Divinity School board of advisers and is a Sojourners board member.