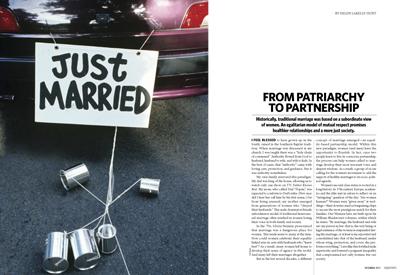 I FEEL BLESSED to have grown up in the South, raised in the Southern Baptist tradition. When marriage was discussed at my church, I was taught there was a "holy chain of command." Authority flowed from God to husband, husband to wife, and wife to kids. In the best of cases, that "authority" came with loving care, protection, and guidance. But it was authority nonetheless.
My own family mirrored this paradigm. My dad was king of the house, allowing us to watch only one show on TV: Father Knows Best. My mom, who called Dad "Popsie," was expected to conform to Dad's rules. (Not once did I hear her call him by his first name.) Far from being unusual, my mother emerged from generations of women who "obeyed their husbands." This male dominator/female subordinator model of traditional heterosexual marriage often resulted in women losing their voice in both family and society.
In the '70s, Gloria Steinem pronounced that marriage was a dangerous place for women. This made sense to many at the time. How could women celebrate their equality linked arm-in-arm with husbands who "knew best"? As a result, many women left home to develop their sense of agency in the world. And many left their marriages altogether.
But in the last several decades, a different concept of marriage emerged—an equality-based partnership model. Within this new paradigm, women (and men) have the opportunity to flourish. In fact, once two people learn to live in conscious partnership, the process can help women called to marriage develop their most resonant voice and deepest wisdom. As a result, a group of us are calling for the women's movement to add the support of healthy marriages to its socio-political agenda.
Women's second-class status is rooted in a long history. In 17th century Europe, academics and the elite met in salons to reflect on an "intriguing" question of the day: "Are women human?" Women were "given away" at weddings—their dowries used as bargaining chips to secure the most prestigious match for their families. Our Western laws are built upon Sir William Blackstone's volumes, within which he states: "By marriage, the husband and wife are one person in law: that is, the very being or legal existence of the woman is suspended during the marriage, or at least is incorporated and consolidated into that of the husband; under whose wing, protection, and cover, she performs everything." Laws like this fortified male superiority and fostered a poignant inequality that compromised not only women, but our society.
Given the checkered history of marriage, it makes sense that some women gave up on the institution. For me, hoping against hope, I stubbornly believed that marriage could, in fact, be a holy union—offering the deepest fulfillment found in life. Because of this, a young Baptist minister from South Georgia caught my eye.
The Baptist minister's name was Harville Hendrix, a man obsessed with the conundrum of couplehood. The more he shared his passion for transforming the conflicts couples fall into, the more starry-eyed I became. I proposed, he accepted, and we worked hard to create a good marriage (which wasn't easy!). Our own relationship was a crucible for the theory and practice that became "Imago Relationship Therapy." Harville's book Getting the Love You Want: A Guide for Couples, which has been printed in 50 languages, focuses on a model of marriage based on mutual respect, one we now call a "Partnership Marriage."
Our approach to marriage has three main messages:
1. There is a myth in our culture: If you're . having problems in your relationship, it means you're married to the wrong person. We believe this myth must be challenged. We teach that "conflict is growth trying to happen." Proverbs 27:17—"As iron sharpens iron, so one person sharpens another"—suggests that conflict, when dealt with in a healthy manner, leads to new growth.
2. Whereas the purpose of marriage in the past was to secure economic and social stability, Partnership Marriage is about mutual healing. When two people work to truly meet each other's needs, they both achieve greater wholeness.
3. There is a new way to talk, which we call "Dialogue," that replaces parallel monologue in a relationship. When couples Dialogue they embody the spirit of the verse: "Submit to one another out of reverence for Christ" (Ephesians 5:21). It is important, however, that both partners take their turn submitting to the other.
We believe that incorporating these three ideas shifts marriage from the dominator/subordinator model into the partnership model, which fosters true mutual respect.
VARIOUS STUDIES SUGGEST that women in marriages thrive more than divorced women or unwed mothers. Researcher Patty Howell of the California Healthy Marriages Coalition has published data on marriage, education, marital outcomes, and key social and economic factors affecting women and girls. Her compilation of findings on the issues of abuse, economics, and women's health includes:
n Spousal and domestic partner abuse is two times higher among unmarried mothers.
n British data show that when a woman lives with a boyfriend who is not the father of her child/ren, the spousal and child abuse rate is 33 times higher than within an intact marriage with children.
n 75 percent of all women who apply for welfare benefits do so because of a disrupted marriage or relationship.
n Approximately 80 percent of long-term child poverty in the United States occurs among children from broken marriages or single-parent families.
n After divorce, the standard of living for women and children drops by 20 percent and women's home ownership drops by 12 percent.
n Cardiovascular risk for women over 50 is 60 percent higher among divorced women and 30 percent higher among widowed women than among married woman.
In fact, only two of Howell's findings showed unhealthy effects for married women. First, married women who reported "keeping their mouths shut" during conflict had four times the risk of dying from heart disease. And married women with unequal decision-making power have a higher risk of death. These two dynamics don't exist in a Partnership Marriage.
Furthermore, Howell's research suggests that it's not simply whether a woman is married. The quality of the marriage determines if a woman thrives. Her findings are supported by what Harville and I witness in our Imago workshops. Building a conscious couplehood demands that both people speak honestly, co-creating solutions that honor both partners. This is ultimately the truest form of empowerment.
More and more people are realizing the impact women have on their context. U.N. Secretary-General Ban Ki-moon wrote, "Equality for women and girls is ... a social and economic imperative. Where women are educated and empowered, economies are more productive and strong. Where women are fully represented, societies are more peaceful and stable." A report from the World Bank focusing on the economic and social implications of gender proclaimed, "Gender equality ... strengthens countries' ability to grow, to reduce poverty, and to govern effectively."
If we took this data seriously, we could toss out most parenting books and the troublesome economic equations and get ready to reduce the size of the military! We could say that it is equal partnerships created by empowered women and men that hold an important key to a healthier culture. Healthy marriages are the ultimate upstream solution that prevents so much downriver cleanup. Harville and I believe it is one of the best ways to transform the world—one couple at a time.
I AM CONVINCED that healthy marriages equal healthy women and girls, which equal a healthy society for all. Many now understand the role women play in building a healthy society. It's time to recognize healthy marriage's role in strengthening women and girls.
The women's movement generated revolution. Women know well that the world's greatest power is love. Love is the ultimate revolution. This was Jesus' message on earth. A Partnership Marriage, in which two people commit to heal one another, creates "a sacred space," a "space between" in which God comes to reside. As it says in Ecclesiastes, "Though one may be overpowered, two can defend themselves. A cord of three strands is not quickly broken." And there are truly three strands within a Partnership Marriage, as the two within the marriage welcome the loving presence of God.
Helen LaKelly Hunt is author of Faith and Feminism: A Holy Alliance and founder of The Sister Fund. With her husband, Harville Hendrix, she is cofounder of the Institute for Imago Relationship Therapy and coauthor of Receiving Love: Transform Your Relationship by Letting Yourself Be Loved.