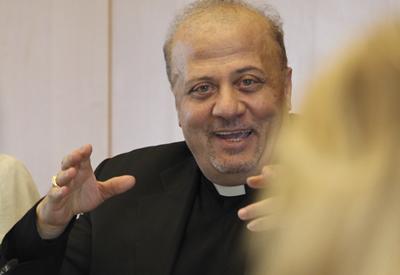 Father Nabil Haddad is founder and executive director of the Jordanian Interfaith Coexistence Research Center (JICRC) in Amman, Jordan. JICRC is an interfaith organization that promotes peace-building based on shared religious values and human rights principles through public events, educational initiatives, and participation in interreligious dialogues, nationally and internationally. Haddad is a priest in the Melkite Catholic Church in Jordan. He was interviewed by phone in June by former Sojourners assistant editor Jeannie Choi.
Sojourners: Tell us about the history of Christianity in Jordan.
Nabil Haddad: I belong to the Arab Christian community in Jordan, which dates back 2,000 years. Actually, you'll find evidence of this conversion in Acts 2, when the Arabs were present during the day of Pentecost. Arabs were there!
These Arabs continued to exist in this part of this world and carry a Christian witness between the time of the Roman Empire and the Byzantines. In the seventh century we were the ones who had to coexist with the newly established Arab Islamic state, and this continued until nowadays, when unfortunately the Arab Christian community is emigrating from this part of the world.
Why are Christians emigrating from the Middle East? First of all, for economic reasons and seeking a better life for their children. The other reason is the lack of tranquility, the lack of civility, and the invasion of tourism culture. Also, due to the war we have seen in this part of the world—in Iraq—Arab Christians are finding that their existence here is at risk.
Does violence against Christians in the Middle East have anything to do with this? The reasons behind this emigration can be seen in the burning of churches, in the killing of clergy and worshipers attending Sunday services in an Iraqi church. Of course, this has placed a heavy weight on the mood of Christians, and the mood of the region. This is the fear factor, and everybody is concerned, but it is up to Christians and Muslims alike to work together, to join hands and to build an alliance.
Christians are an integral part of the Jordanian Arab community. I can't see any Middle Eastern Arab community without a Christian element. I think it is a responsibility of Muslims and Christians alike to get together in order to make this a challenge for the inhabitants and citizens of the Middle East. We can't talk about the Middle East without a Christian witness.
How have you been able to build allegiances between Christians and Muslims? The Jordanian Interfaith Coexistence Research Center is the first nongovernmental organization in Jordan based on interfaith values. It is not a religious institution, but it was built on the common values systems that we have in the monotheistic religions. We all talk about love, respect for the human being, good relations among people, and obedience to the one God, the creator of all humankind.
We do not discuss our theological differences. We discuss the teachings of our religions that we have in common. I sometimes have to remind a Muslim to be a good person, as much as I remind myself to be a good Christian. In my daily encounters with my Muslim brothers and sisters, I tell them that my Lord Jesus Christ directed me to love my neighbor, and the neighbor in my case is this Muslim brother and sister, and I am not going to give up loving them because they are not Christians. Believe me, it is working.
How do you encourage coexistence between Muslims and Christians in Jordan and in the Middle East? I remind the Muslims that they have to protect the presence of the Christian community. If they don't show their respect and love to their Christian brothers and sisters, how can they talk about the verses in the Quran that call Muslims to love all people, not only the Muslims? How can a Muslim be a good person if he or she does not show this love and respect to the people of the book, to the Christians and the Jews?
I tell my Christian people that we are the salt in our society. Any salt in a dish is a small minority. I do this work out of my conviction that as a Christian I am the salt. And I have to be the good salt.
This is the challenge that we have as we talk among ourselves as a minority in Jordan, as Christians who are responsible for carrying a Christian witness. This approach has won respect in the local, regional, and can work at the international level.
I try my best to be a good Christian. I'm not talking about being Catholic or Orthodox or Protestant. I'm trying to be a good Christian. People don't care who you are, what denomination you are—but I carry the name of Christ in my daily attitude with them.
When it comes to our programs, we don't do things in a very complicated way. We simplify the message, we simplify the theory, we simplify the practice, and we simplify the application of all our programs. We need to go down to the level of people. And when we go down to their level, the people elevate us. I believe when we love these people, we get all those who are down on the earth, we get them up high to heaven through the message of love.
Have you ever seen a Santa in a mosque? I have taken Santa to a Muslim mosque. I have given Christmas gifts with Santa to Muslim and Christian children. People would ask, "Why are we celebrating Christmas—Christmas is a Christian ceremony?" I told the Muslims and Christians that I have to share the love of the child, Jesus Christ, with all people. It is a Christian message, but it's a Christian message for all. I remind those Muslims that the Holy Quran reveres the Virgin Mary and the Lord Jesus Christ. You can have your share of this great day. Our message of love will not accept any limits. We are supposed to be with Muslims. This is the message that I give and will never stop giving regardless of where I am and with whom I live.
What motivates you to do this work? I do this because I am a very selfish person. And this is a very holy selfishness: To love God, to love my neighbor like I love myself. I love myself in the proper way. The proper way is to show love. I want my people, my family, my kids, my parish, my friends, my Christians, my community—I want every one of them to enjoy security and peace. I am a mason of peace. I build peace, block by block. Not by myself, but with the help that I get from the people who are my allies, my friends, my partners who believe the same thing, and with the gift from God who gives me this strength to continue.
It is not easy to work for peace. It is much easier to sit back and feel isolated. I am doing this work for very selfish reasons, because I want people to say, "This man is a peacemaker." I don't want people to talk about me as a priest. I am a priest, but I am not a priest only for the Christians, I am a priest for all. I want people to see my Christ in what I say and in what I do. All these programs are done on this basis: Blessed are the peacemakers.