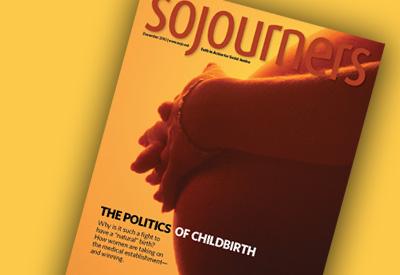 Walter Wink is broadly considered one of the most important social and political theologians of the 20th century. His series of books on the "powers" -- Naming the Powers, Unmasking the Powers, and Engaging the Powers -- unpacks the spiritual significance of political and societal institutions (the biblical "principalities and powers") and their role in systemic injustice. His wife, June Keener Wink, is a lifelong dancer and potter. For 28 years, she and Walter led seminars combining artistic expression with biblical exegesis, with the objective of human transformation. They traveled the world together, leading workshops and spreading the message of nonviolence in South Africa, East and West Germany, Chile, South Korea, Ireland, and elsewhere.
In 2006, doctors diagnosed Walter with dementia. He and June stopped leading workshops in 2008. They live in the Berkshire Mountains of western Massachusetts, where freelance writer Steve Holt spoke with them this summer for Sojourners.
Steve Holt: What were some of the significant events along your spiritual journey that have shaped who you are today?
Walter Wink: There were two major experiences that I underwent that were transformative. The first one was when I was a sophomore in college and I [received] the gift of the Holy Spirit. During that experience a voice said, "I'm going to send you to the ends of the earth." And God sure did. I was just a kid, and I'm embarrassed to even talk about that. I had a Pentecostal experience when I was a liberal Methodist! That shaped every aspect of my spiritual life from that point on.
The second was in San Francisco, when I was able to work on the historical Jesus with the Guild for Psychological Studies. That was really brilliant exegetical work that opened me up to art.
I tell a story about sitting down with a group of 30 people exegeting the story of the paralytic. They sent us off with a ball of clay and told us to shut our eyes, and then, after five or 10 minutes, to open our eyes and see what was there. I couldn't believe what I'd created -- a beautiful bird with a broken wing. It was like a revelation: I am broken. Experiences like that created a place where I could go and struggle with my soul.
The working subtitle of your autobiography is The Struggle to Become Human. What does that mean to you?
Walter: Instead of saying what you need in order to become "saved" by doing certain things, I want to reconceive the meaning of that statement. I believe we would have something much more ecologically oriented. What we need is a new anthropology. "Becoming human" is, in my mind, the substitute for the classical orthodoxy.
When I look around at who is the exemplar of the human being, that's a little bit different than saying, "Has this person been saved?" I can point to people that many Christians might not say were "saved," in the classic sense: Gandhi, Dorothy Day, Cesar Chávez, Martin Luther King Jr., Muhammad Ali -- a wonderful bunch of people. It's great to think about them. We need to honor these people because of their actual fidelity to the highest we know.
How did you become engaged in societal transformation? Where did this desire within you begin?
Walter: When I was a child in Dallas, I had a black neighbor friend. We were 6 or 7; it was Christmastime, and all the older boys were dragging big Christmas trees to a hole that had been dug out in a vacant lot with houses around it. As a little kid I loved fires. We got some matches and lit the Christmas trees. Of course the wind was blowing and it was suddenly a tremendous fire.
Next thing I remember, the fire chief was dragging me out from under my bed. He gave us a dressing down. He kept saying that it was the black kid's fault. I said, "No, that's not fair! It was my idea!" But they wouldn't listen to me. I never forgot that. It was a simple, little thing you would never think would have any effect on somebody, but it did on me. There's a consequence to it that made it transformative. I guess that's about as early as you can get.
What initially piqued your interest to study the powers and principalities?
Walter: I became aware of the powers while doing ministry in Hitchcock, Texas. When we encounter social structures and institutions and social systems, the social institution is real at the spiritual level. The spiritual world is real in the sense that the letters sent to the angels -- for example, in Revelation 1 to 3 -- are all collective responses: "You all."
I was doing a Bible study with seventh and eighth graders, and I asked one question: "Why is Revelation 1 to 3 in the plural?" They began to realize that there are corporate spirits. There is a spirituality of every institution in the world. No matter where it goes or how it gets there, there is a spiritual reality. They got it.
How have you seen the powers at work during your life?
Walter: When I was in South Africa, I actually heard South African people use the phrase, "The system is at the door. Sneak out the back." My colleague Colin Andrews took us into [a township], and they had this tin house, and 13 people were sharing three servings of food. There was an open sewer. It was absolutely inhuman.
June Keener Wink: That was "the system." The system created it.
How would you exhort Christians today to respond to the powers?
Walter: There are so many things that are flagrant and demonic in our culture. What if people who have learned to be an intercessor were to cry out for the drive to stand with these human ones? What if a bunch of intercessors stormed heaven on behalf of some important issue?
Tell me about your symptoms. How has dementia affected you?
Walter: The hardest thing on me has been speaking. Words. Remembering words, then producing the words. It's more than your normal memory loss.
In the beginning, it was deceptive, because the symptoms changed all the time. It was unfair. Today, at times I might get better and people won't believe I have a malady. I feel like a liar. Fortunately, I'm getting to have some real vital experiences of my love for June and family, especially. In some ways, it's sharpened our love for each other. The kids have been unbelievable.
You two have been married for 30 years, and 20 of those years were spent conducting workshops together. Tell me about that.
June: Walter's work was so empowering. As he worked with people, I could see people being transformed by God's work within them. That's both what we saw and what we wanted. I think we worked well together because we're so opposite. Our gifts are so different. I am not an intellectual -- I am a right-brained intuitive, and Walter is totally the scholar. So we had no competition in presenting. I was always there for him as one of the audience, not as an authority. I was learning just like the others.
Often we would integrate the workshops. I would take the art and the movement part. We were able to flow that way. People appreciated the feminine and the masculine working together. We just didn't have any conflict as far as control. I was always fascinated and learned from Walter. I still learn from Walter. When I read his books, it's almost like he's not Walter Wink -- the material speaks.
Walter: We were really in touch in doing these workshops. They existed to assist in human transformation. We tried to avoid having the "good workshop." Instead, we wanted to have a transforming workshop, and if anything gets in the way of that, it had to go.
Today, many Christians -- people in the emerging church, for instance -- are rediscovering the holistic concepts you were teaching 20 years ago. How do you react to that?
Walter: The surfacing of those kinds of interests has been taking place without my involvement -- I'm angry about that. I wanted to be a part of that! All I can do is just kind of wave as I slowly sink into the mire. So it really has been hard to have that kind of potential leadership -- I should be in that right now, but it's not going to happen.
What brings you joy about the world in which we live? What causes you to celebrate?
Walter: People. People make us happy. Look out the window for joy. The river is joy. Nature is joy.
What has this season of dementia taught you?
Walter: I always thought that I might be able to learn from the illness, but my sense in passing is that this has not been a big learning experience. I just don't think we ought to give so much credit to the sheer role of chance. We ought not to give death so much credit for our spiritual growth.
June [to Walter]: Are you afraid of death?
Walter: No.
What gives you that assurance moving into the time of death?
Walter: Look, everybody is gonna die. I don't have any regrets. We fought the good fight, and have done good.