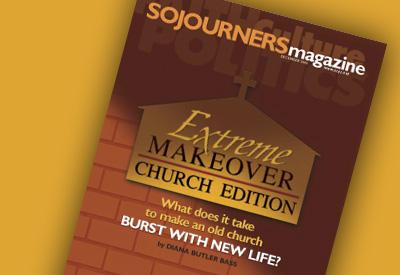 For the last three years, my job has been to go to church. As the project director of a research study on vital congregations, I have spent hundreds of hours in worship, attending programs and events, and talking to pastors and laypeople from healthy and lively churches. Although the conventional wisdom limits such traits to conservative congregations, my search for vitality focused on mainline Protestants, whose old churches dot the American landscape.
Many people chuckled when I told them of my quest. "Vital mainline churches?" they asked. "That sounds like a pretty short journey!" But I am an Episcopalian who has found a meaningful way of life through ancient tradition, social justice, spiritual practices, and beautiful worship. So I set off to find some like-minded pilgrims. I hoped to learn from real people in the pews what it is that makes their churches work and to give voice to their understanding of the gospel.
While my intent was simply to locate others who practice Christianity in ways that I recognize as faithful, what I found were mainline congregations all over the United States that are actually deepening spiritually and, in most cases, growing in membership. The 50 congregations in my study embrace no evangelistic strategy, no programmatic style of
church growth. But they exhibit Christian authenticity, express a coherent faith, and offer members ways to live with passion and purpose. These churches exude a strong sense of mission and identity, which for many of them gives witness to great renewal following crisis, threatened closure, spiritual ennui, or general decline.
Paths to such renewal varied, but I did discern a similar pattern: Mainline renewal is, as one Lutheran pastor told me, "not rocket science. You preach the gospel, offer hospitality, and pay attention to worship and people's spiritual lives. Frankly, you take Christianity seriously as a way of life." Each of the congregations in my study has found new vitality through an intentional and transformative engagement with Christian tradition as embodied in faith practices such as discernment, hospitality, testimony, contemplation, and justice. They reach back to ancient wisdom, and they reach out through a life sustained by Christian devotional and moral practices. They know both the biblical story and their own stories. But they are not message-centered so much as mystery-centered communities, focused on incarnate grace in the world.
I JOINED TRINITY Episcopal Church in Santa Barbara, California, just as it was awakening from a long mainline slumber of numerical decline, financial crisis, poor leadership, and loss of vision. Through prayerful discernment, radical hospitality, the development of new leadership patterns, and a series of near-miraculous occurrences, the church not only ended its decline but actually tripled its membership. It is now a vital, faithful, and deeply passionate Christian community.
Trinity is politically liberal, theologically progressive, and openly inclusive—so the conventional wisdom suggests that it should have died. In fact, it came back to life by heightening these very elements. But, unlike classic Protestant liberalism, Trinity linked its progressive vision to a new sense of spirituality and a renewed appreciation for Christian tradition. Social justice and spirituality were combined in an open community of practice: walks for the homeless and walking the labyrinth, a living wage and a way of living the Benedictine rule, attention to inclusive language and deep attentiveness to the Bible. People were drawn to Trinity by a hunger for exactly what the church offered.
A recent Newsweek cover story on spirituality in the United States claimed that "Americans are looking for personal, ecstatic experiences of God." The article emphasized individualistic styles of spiritual practice and concluded that Americans are far more interested in generic spirituality than in religion. But the piece missed an emerging story of a larger cultural shift: Religious communities are re-envisioning and re-forming both their traditions and their practices in a sort of new spiritual communalism. According to Newsweek'sown poll, 55 percent of U.S. residents define themselves as "religious and spiritual," nearly 30 percent more than those who claim to be "spiritual but not religious." The emerging story is that people are finding new life by weaving a lively sense of God's presence with more traditional forms of religious life in community. Churches like Trinity grow when this pattern is evident; they decline when they neglect scripture, prayer, discernment, hospitality, contemplation, and justice. On my journey, I saw the old mainline recover its heart of faith through an emerging set of practices of passionate progressive Christianity, in communities both spiritual andreligious.
What does this pattern look like? In the congregations I studied, three interrelated characteristics shape an overall pattern of vitality: 1) tradition, not traditionalism; 2) faithfulness, not fundamentalism; and 3) wisdom, not certainty.
Tradition, Not Traditionalism
Some people worry about a revival of tradition. After all, many Christians traditionally excluded women from ministry, supported racial segregation, confused church with state, and held slaves. Perhaps tradition is best left in the past. Such was the attitude during my Methodist childhood, when we eschewed tradition in favor of being "modern."
Now, however, mainline Protestants are reclaiming tradition as a fluid and critical process—they are making a distinction between the life-giving "Great Tradition" and authoritarian, exclusive traditionalism. As one Cincinnati Episcopalian explained, "I like the connection to the traditional; it's sort of anchored in tradition. But it's open on the end." A parishioner from a Presbyterian church in Pittsburgh noted that the congregation is "really trying to be a church that knows tradition and at the same time moves into the future." A Florida Methodist referred to his church as "cutting-edge traditional," and a mainline pastor in Washington, D.C., described a movement toward "recovering the practices of the early church and offering them in a way that the contemporary or emerging church can use and find meaning in." These churches treat tradition not as a museum piece to be guarded but as the clay of Christian experience, as material that successive generations of believers must craft with faithful care.
Faithfulness, Not Fundamentalism
I spoke to many people who wished to distance themselves from narrow forms of religion. "Oftentimes, I hear someone say, 'I hate organized religion,'" a Presbyterian woman told me, "so I say that we're a very disorganized religion. Theologically, we are not dogmatic in any particular way." Another member of her congregation described it as "a God-centered, prayer-centered church, as opposed to a program- and belief-centered church." Each was reaching for language to explain a congregation that is committed, but not exclusive; engaged in mission, but not exactly evangelistic.
A Seattle Lutheran tried to explain it as follows: "We're really walking the walk that Jesus and the disciples talked about. The stuff he preached and the way you are supposed to live are radical." A Florida minister told me bluntly, "I have a deep personal faith. I am outraged by the 'righteousness' of the Christian Right." Another pastor identified her own "evangelical leanings" but noted her "marked distaste for the politics of exclusivity that often gets thrown in with that theology." These mainliners saw themselves as more faithful to the gospel—and therefore more at odds with the dominant culture—than the conservative church, which many of them believe has been co-opted by worldly values of success, consumption, and power.
Wisdom, Not Certainty
The people I met along the way were on a quest for wisdom rather than certainty. A churchgoer in Washington, D.C., told me that "the whole thing [is] not being about definite answers but community." Many sought such community as a place in which to ask life's questions, which are, in the words of one Cincinnati Episcopalian, "sometimes more important than the answers." A Memphis woman commented, "The moment that we think we know, we've lost our perspective on wisdom. [The purpose of] the search and the journey is, maybe, to get to the point where I'm at peace with what I do understand, and where I understand that there is more." A member of a growing Presbyterian church offered that "there are people in the world who want to be told 'this is what's right, and this is what's wrong. It's black and white.' But we tend to attract people who are more interested in the questions and the mysteries of these things than they are in the answers to them."
The people I met are thoughtful and articulate, but they embark on the Christian intellectual life with surprising spiritual modesty. They insist that certain things remain in the realm of mystery and that Christian character calls for humility in understanding the ways of God. While outsiders sometimes decry this characteristic as merely wishy-washy, mainline churchgoers cautiously portray it as wise, as a quality of prudent discernment and of an awareness of human limitation.
The vital congregations of my journey practice faith in dynamic ways, reconstructing tradition in terms of experience and wisdom rather than program and absolutes. Much of their vitality arises not from outside leaders or denominational plans but from adult newcomers to the faith. These new members conceive of Christianity as a journey or pilgrimage toward an authentic faith, one deepened by relationships with other such pilgrims and by engagement with the wisdom of those who have gone before. But while much of contemporary spirituality is relentlessly individualistic and inward-focused, I encountered people who seek to practice contemplation within active community, emphasizing faith in daily life and the reign of God in the here and now. Thus they are helping to construct a theological alternative to both conservative evangelicalism and classic Protestant liberalism.
In my travels with mainline Protestants, I also came across other faithful people on the same road. Progressive evangelicals are gathering in emergent congregations, home churches, and alternative communities; many of their practices mirror those of the congregations I visited. Catholic and Jewish friends inform me that similar communities exist in their midst. All these movements function as models of religious practice for those of us who live between the worlds of secularism and religious fundamentalism and who hope that faith can still meaningfully transform our lives, churches, and communities within a culture both postmodern and post-religious. I am convinced that these congregations constitute the unheralded but vital center of American religious life.
My journey took me to an unexpected place. Although I began with the suspicion that my experience might be unique, I now believe that we are standing at the edge of a trend, one that is quietly changing religion in this country. But these congregations are still in a minority, and as communities they often feel isolated and alone. If they connect to each other and make common cause—finding a shared voice and a shared set of social concerns—it could have profound consequences for the public practice of religion. If indeed a new/renewed kind of biblical faith is emerging, we may well have cause to rejoice.
Diana Butler Bass is the author of four books on American religion, including The Practicing Congregation: Imagining a New Old Church (Alban, 2004). A new book, Going to Church: Christianity for the Rest of Us, is forthcoming from HarperSan-Francisco in 2006. She lives in Alexandria, Virginia, where she is adjunct faculty in church and society at the Virginia Theological Seminary.