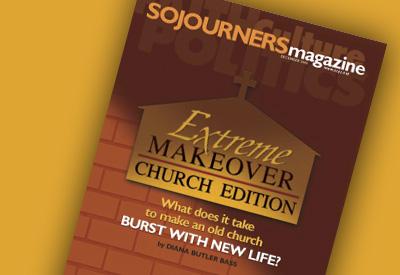 The headline of his Washington Post obituary on July 17, 2005, read: "Nelson Good, Sociologist." Which was accurate, in a narrow, misleading sort of way. But the headline writer deserves our sympathy. Even Nelson Good's children complained that they never knew what to say when their friends asked, "What does your dad do?"
What did he do? In 61 years of life, this lean, slow-talking, earnest man with a sly and boyish sense of humor never put together a résumé. He created his own jobs, usually part-time, often working with longtime friends for meager pay.
I thought of him as a builder, but not with hammers and nails. His tools were meetings over breakfast, late-night phone calls, and lots of conversations in between. On the surface, those conversations concerned a school he helped keep afloat for 13 years, our church, a retreat center in West Virginia, and the rebuilding of a historic YMCA building in the heart of Washington, D.C. But you realized, after awhile, that Nelson was really building something else. He was constructing human communities, frameworks for whole and healthy lives, assembled mysteriously from people's donated time, energy, and goodwill. Nelson left us this year, but that web of community remains.
Nelson Good grew up in a Mennonite family, the third of seven sons, on a dairy farm in Lancaster County, Pennsylvania. He was curious about the world beyond the farm's fences; while a student at Eastern Mennonite College in the mid-1960s, he tasted, first from afar and then during a summer session in New York, the ferment of the civil rights movement and urban unrest.
He was drawn to the city, and the military draft opened a door. Since he was a Mennonite and a pacifist, he registered as a conscientious objector. And in 1968, just married to Betty Wenger, he began a term of "1-W Service"—an alternative to military enlistment—at a small Mennonite-run center for youth on W Street in Washington, D.C. Nelson was in charge of the place.
"We were foreigners on the block," said Nelson earlier this year. The six young Mennonite volunteers were white; the boys and girls who came to their "Friendship Flat" after school for games, tutoring, and other activities were black. Racial tension was palpable. The ruins of 14th Street, destroyed in the 1968 riots that followed the assassination of Martin Luther King Jr., lay just around the corner.
It was a crash course in an unfamiliar world. Marsha Lyons, who lived on W Street and knew the volunteers well, says the farm boy managed just fine. "All he had to do was be himself. He was patient, and he'd listen a lot, rather than talk a lot."
Nelson recalled some moments with pride. One day, for instance, teenagers from the neighborhood, angry because Nelson refused to open the recreation center for them outside of normal hours, started throwing snowballs at the house and broke some windows. Nelson ran out to the street and started throwing snowballs back. As the battle continued down the street and into a park, anger dissolved into laughter. Eventually, the erstwhile attackers agreed to come inside and help clean up the glass.
But Nelson also grew uncomfortable with his assignment. He wondered if the volunteers, despite their best intentions, embodied racist stereotypes of white benefactors and black dependence. "Both of us were skeptical about 'do-goodism,'" says Betty. Lyons says Nelson's self-criticism was unjustified, but Nelson was never fully convinced.
The experiences of the W Street years became the themes of Nelson's life: Working with urban youth, bridging the gap between city and country, creating communities that offered an alternative to the "rat race" of individual success and financial security.
Betty and Nelson never lived outside the city again. In fact, they never moved more than a mile from W Street. But Nelson remained a Mennonite farm boy to his core. He respected physical labor and delighted in it, whether fixing broken toilets or splitting wood. He had his own ways of doing things to which he was stubbornly devoted. He avoided the limelight and didn't excel at public speaking. And even though he rarely talked much about it, he lived the faith that he'd been taught, loving his neighbors as himself.
For those still asking the question that so frustrated Nelson and Betty's children, here's what Nelson could have included in his résumé, if he'd ever composed one.
He earned a master's degree in sociology from Catholic University in 1973. Then he began helping friends who had set up a small school for troubled children under the umbrella of a nonprofit organization called For Love of Children (FLOC).
"We had foster kids who were getting sent home from Washington, D.C., schools because the schools didn't want to deal with them," says Fred Taylor, founder and former director of FLOC. The Learning Center offered them a safe haven. "It had an immediate effect," says Taylor. "Behavior problems started to subside."
The school, staffed mostly by volunteers, was struggling to survive. As he did so often, Nelson stepped in to fill the gap and worked as the school's half-time administrator from 1973 until 1986.
He created another half-time job for himself introducing Mennonite college students to urban life. Nelson spent much of 1975 and 1976 persuading reluctant administrators at Eastern Mennonite College, his alma mater, to set up an innovative program called the Washington Study/Service Year (WSSY). In 1976, the first wave of students arrived. For the next 11 years, Nelson acted as their primary seminar instructor, internship arranger, group counselor, and plumbing problem-fixer.
WSSY was Nelson's answer to his doubts about Friendship Flat. The students were also there to help, but in their part-time jobs they worked for institutions with deep roots in the community, from soup kitchens to neighborhood clinics. And they were there mainly to learn, about the city and themselves.
When he decided it was time to move on, old friends dropped new assignments in his lap. From 1987 until 2001, working for FLOC, Nelson coordinated a neighborhood effort to preserve and renovate Washington's historic 12th Street YMCA building. The aging structure had once been at the heart of D.C.'s African-American community. The project grew in complexity and cost, and Nelson's skills grew with it. Now successfully renovated, the building is called the Thurgood Marshall Center for Service and Heritage.
Nelson also poured countless unpaid hours into a venture in the hills near Harpers Ferry, West Virginia—the Rolling Ridge Study Retreat Community, a place where city dwellers can find quiet and renewed connection with nature. He, together with Betty, also was a vital force within our church, a small group called Community House Church that has endured for 30 years without paid leadership or a building of its own.
The most important things about Nelson, though, were less tangible: His devotion to Betty and their children, Ryan, Deborah, and Jason; his tenacity; his attentiveness to the newcomers in any group; his persistent deflection of attention away from himself toward others.
Nelson sensed social and spiritual significance in the most practical details of life. He saw the state of American race relations in a decision about where, in a mostly segregated city, to buy a piece of hardware. Nelson and Betty bought their first house with another young couple and arranged the space to accommodate both families, with a shared living room. It was practical, but it also expressed their values—the arrangement "allowed community to happen," as Betty put it, but didn't force people into community. It saved money, but Nelson always had a larger vision for frugality. People who managed to live happily on less had more freedom. They could work at jobs that allowed room for family life, or for causes they believed in. It was all part of a strategy for building community, the web of relationships that starts with the family and extends outward.
Community, in fact, was the starting point of everything Nelson did, and its outcome as well. His final work project was typical. Two years ago, Nelson took on the job of finding a new home for the WSSY program, now called the Washington Community Scholars Center. Through persistence and good fortune, he located a property near Catholic University. To rebuild the center, Nelson pulled together a collection of people from many corners of his experience. One of the carpenters had been a Mennonite volunteer at Friendship Flat. The site supervisor had lived at Rolling Ridge. The architect had designed the Rolling Ridge retreat house. The man in charge of estimating costs and recruiting subcontractors had been, for 30 years, a fellow member of Community House Church. The consulting engineer had lived for several years in the basement apartment of Nelson and Betty's house. One of the program's co-directors had been one of Nelson's WSSY students.
It was, as they say, a community effort. And, as always, Nelson focused not just on costs and schedule, but the functioning of this community. As architect David Conrad said at the building dedication last August, "The team matters, the team members matter, and the relationships between the team members matter."
That project was under way but far from finished when Nelson began experiencing severe back pain early this year. A Jan. 26 CT scan revealed cancer on his spine and various organs. Amid the tears, shock, fear, and numbness of that evening, Nelson and Betty talked about how to share the news with their many friends. Nelson didn't want his crisis to corrode or harm the community but rather to "build community." Despite the pain and isolation that come with serious illness, the six months of Nelson's battle with cancer did, in fact, strengthen bonds of community.
Betty, with contributions from Deborah, began writing a brave and moving series of letters chronicling the progression of Nelson's illness. The e-mailed letters were intended to let concerned friends know how things were going. But forwarded from friend to friend, they reached wider circles of Nelson's communities—hundreds of people. They opened a window into what is so often the most isolated and private part of life, the process of leaving it. Betty wouldn't have written them if Nelson hadn't encouraged her to. And almost until the end, Nelson read every one. It was his final gift.
Sometime during the week or so after Nelson's diagnosis, still reeling from the news, I drove home along streets where Nelson had walked and talked for 35 years. They suddenly filled with memories of the man.
Nelson wasn't what you'd think of as a holy man. He wasn't much for pious words. Yet driving through his neighborhood, I was suddenly overcome by the feeling that Nelson's life in his community had consecrated these strips of dirty asphalt and bruised bricks. They'd become, for me, holy ground.
Daniel Charles is author of Master Mind: The Rise and Fall of Fritz Haber, the Nobel Laureate Who Launched the Age of Chemical Warfare and a member of Community House Church in Washington, D.C. He gives deep thanks to Deborah Good for making available the story of her father's various projects in Nelson's own words.