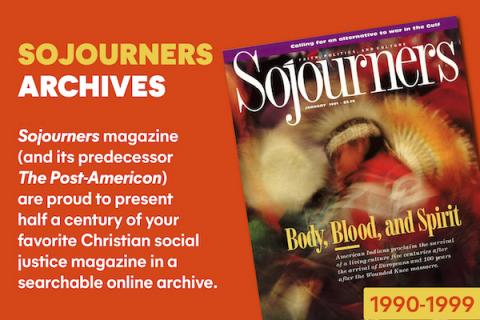 What are the theologians saying about children? This question is not often asked—and is off the mark anyway. The question is, What are children saying about theology?
The contributions of children to theology are not organized or complete. They are nevertheless present and valuable among us. They come as the fruit of children's rich and unique relationship with God. They are signs along the Way-pointing to the heart of our faith, pointing to God. I've been guided by many such signs in my work as a catechist with young children.
Love and the Power of God
At age 5, Lizzy drew a picture in church one day. It included a happy little girl, a cross with Jesus on it, three sad faces in the sky at the top of the picture, a rainbow, 30 hearts, and the words "God's love" around one of the hearts. When I asked Lizzy about her picture, she said:
Jesus is on the cross, the hearts are love. The girl is me, with love around me. The people at the top are praying, they are sad because of Jesus on the cross. This [a circle of hearts in different colors] is God's power.
Young children are rich in love. Lizzy shows this in her picture with herself surrounded by love, Jesus surrounded by love, and the compassionate sadness of his friends because he is on the cross. But the cross is a relatively small part of the picture; love abounds, and love is powerful.
One of the ways children have surprised me is that some of their favorite songs communicate confidence in God's love in the midst of life's trials. "On the Wings of a Dove," "Bells of Norwich," and "Alleluia, the Great Storm is Over" are three songs that are requested repeatedly. The chorus of "Bells of Norwich" includes the words,
Ring out Bells of Norwich and let the winter come and go
All shall be well again I know.
One boy, at age 4, requested this song week after week during a difficult year when his parents were getting a divorce. He always sang it with great joy. He didn't speak of the tensions at home until two years later, but he had a song that voiced his hope during a troublesome time.
Two other girls, whose father had lost his job, often chose "On the Wings of a Dove" to sing for the class prayer service. Two of the lines are:
When these things beset us, God doesn't forget us,
God sends down his love, on the wings of a dove.
Children's enjoyment of God's love does not occur in a privileged hothouse free of life's troubles. Such a love would wither as soon as adversity is encountered. The children are immersed in life's struggles as part of their family, sex, class, race, or nationality. They also have individual handicaps, and suffer various degrees of physical, emotional, and/or sexual abuse. Their knowledge of these struggles may not be rational, but it is certainly present, and it is part of their relationship with God.
Sofia Cavalletti, who has worked with children for more than 40 years, writes about a drawing done by a 5-year-old girl who lived in an institution, virtually abandoned by her parents:
She heard about the Good Shepherd and drew in the center of the sheet a "happy heart," her own!... It has been noted by many catechists that often the children most lacking in human affection are the happiest in the encounter with the Good Shepherd.
The power of God's love is greater than life's adversities, but without the violent nature of many other kinds of power. The parable of the mustard seed also helps the children to grasp the immensity of God's power. After hearing the parable at school, 3-year-old Rachel came home and prayed each night at grace before dinner, "Thank you for the strength."
I once asked a group of 8- and 9-year-old children, who had been in our program since age 3, if this power of God's is stronger than "bad power," a term the children had coined to describe violence and hatred. There was some hesitation, so I suggested we look at the life of Jesus. He was threatened by hatred and had the choice of using violence against it. However, he chose to love and was crucified. At that moment it seemed as though "bad power" was stronger.
But in the resurrection, Jesus overcame violence. We talked about the power of the Risen Lord, and then I asked, "Do you have the same power?"
Some children said, "No."
"What about baptism?" I asked.
"We receive the light," said Peter.
Peter then drew a synthesis of our discussion. Jesus is rising from the cross, disproportionately larger than Calvary and the people cheering there. Jesus is saying, "I love you," while flowing from his hands to the people are "light and mustard seeds." Jesus' power in rising is greater than the power of violence and death, and as he rises he shares this power with us.
The Rainbow and God's World
Holly Tosco, a catechist in North Carolina, described to me a picture by a 6-year-old girl. She had drawn a rainbow and titled it "God's World." On the back she wrote, "God's world is 5,000 religions."
In an age of religious pluralism, I have heard many Christians struggle with Jesus' words, "I am the way, the truth, and the life" (John 14:6). How can people with deeply held beliefs coexist with other people, whose beliefs are not the same? Should we evangelize them, pray with them, or fight with them? Many of the world's war-torn countries are split into religious factions. And some of humankind's greatest atrocities were committed in the name of God.
Perhaps this child can help us to see things from a different perspective. Sunlight is a light so bright our eyes are not capable of looking at it. But water refracts that light and makes it not only visible but beautiful in the array of colors we call the rainbow.
Likewise, God is a light so bright our eyes are not capable of looking at it. But in people that light is refracted and made visible and beautiful in an array of religions like a rainbow.
Each culture of the world, due to the particularity of their time and place in history, are able to offer to every other culture a hue of the mystery we call God. Though the source of each is the same light, it is refracted with great beauty and variety.
We see most clearly at first the hue of our own religion. And in our faithfulness to that religion we share its greatest gifts.
But we also live in a time in which we can know and appreciate the reflection of God that other religions make evident for us—a time in which we can know the limitations of our own religion and find it complemented as part of a greater whole.
The rainbow in Genesis is a sign of the covenant between God and all the people of the earth. The girl who drew this rainbow, like many other children I have spoken with, is very clear about the universality of the reign of God. There is nothing beyond its reach, no sheep too far from the Good Shepherd, no people not invited to the banquet. How all these people will come together in the harmony of the reign of God is not clear, but that they will be united is clear.
Encouragement from God
One week a small group of children and I read together the parable of the sower who cast seed in his field and then went about his business while the grain grew "of its own accord" (Mark 4:26-29). We reflected on the parable for a while and then I asked the children to think quietly about it and then share with the group their thoughts.
When Joey's turn came he said that each of us has our own power, just as each seed has its own power. We can decide how we will use our power. I asked him if he thought God cared about our decisions.
"Oh yes," he answered with a smile, "God encourages us."
With just a few words and the help of the image of the parable, Joey was able to communicate his understanding of the gift of free will and the importance of our decisions. But Joey did not portray God as one who waits for us to stray from the narrow path in order to judge and punish. Instead, Joey spoke of God as one who follows our lives in order to encourage and support us when we are in need, and to rejoice with us when we choose well. He was grateful for the power God shares with him, and he trusted in God's constant grace.
The theology of young children emerges as a distinct voice about God based on a unique relationship with God. The awakening of the church to the young children in its midst reveals a two-fold task: to make the church a safe and nurturing place for children, and to learn to "become like little children" (Matthew 18:3) in our journey toward the reign of God.
Catherine Maresca was a catechist at Christian Family Montessori School in Mt. Rainier, Maryland, and a trainer of catechists around the country, when this article appeared.