In early June of 1963, when I was 15 years old, a group of us including Fannie Lou Hamer and Annelle Ponder of SCLC went from Greenwood, Mississippi, to a voter education workshop in Charleston, South Carolina. On the way back we had to change buses at the Trailways station in Columbus, Mississippi. We had an hour or more layover there.
We had taken the notion that we were really serious about breaking the barriers of discrimination. We felt like the bus station was a good place to start, so we went in to eat at the "Whites Only" lunch counter. A couple of police officers came in and stared at us and made little remarks, but we did get served.
Then they called for all the people going to Winona, which was our next stop, so we got our baggage and stood in the front of the line to board the bus. The bus driver came and pulled a little white girl out of the line and pushed Mrs. Hamer and Annelle Ponder back and said blacks did not get on the bus before whites. So we began to raise questions and took the driver's name and badge number. That was one of the techniques we had learned at the workshop. Then we boarded the bus and sat down at the front.
On the way to Winona, we noticed that the driver would stop at every little town and use the telephone. All during the trip Mrs. Hamer was very outspoken and was telling the driver that he had violated our rights, that we had a right to be sitting at the front of the bus, and that he had abused us by putting whites in front of us. So when we got to Winona we felt like there was going to be trouble, especially since the driver had made those phone calls.
When we got to the Trailways station at Winona there were highway patrolmen and police officers all over the place. We went in and sat down at the lunch counter on the white side. A police officer came over to us and said that we had to leave. He said that niggers didn't get to eat on that side. But we refused to leave.
Read the Full Article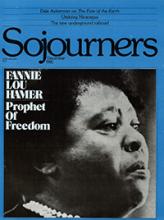 ​You've reached the end of our free magazine preview. For full digital access to Sojourners articles for as little as $2.95, please subscribe now. Your subscription allows us to pay authors fairly for their terrific work!
Already a subscriber?
Login