UPDATED July 31, 2020
Based on further conversations and reflection, as Editor-in-Chief of Sojourners, I feel it is important to clarify a very unfortunate situation regarding an article published in Sojourners and the decision to take it down. In this case a breakdown occurred in the final step of our editorial process, caused in part by this time of COVID-initiated remote work, in which the Editor-in-Chief reviews the final copy of the magazine before publication and which, in this case, was never sent to me. That is not the author's fault but ours and mine, and I apologize to the author for any harm this has caused.
I read this article after it had been published, and in further conversation with some of our team and many of our longtime and trusted friends including within the Catholic community, I made the difficult decision to have it taken down-- something which would only happen in an extraordinary circumstance. While our editors preferred to pursue our normal practice of reviewing the critiques and issuing any corrections to the article that might be necessary, I ultimately felt that the factual accuracy, tone, and implication of the article as a whole failed to meet our journalistic standards of accuracy, fairness, and balance and required a more urgent response from Sojourners.
The decision to take down the article has also received a deep and passionate response and I deeply understand and respect those concerns too, especially in a time like this when the need to confront white supremacy and nationalism is in the center of our minds and hearts.
The decision to take down the article was a difficult one but was based on the implication throughout the article that leadership within the Catholic Church has failed to address or even been complicit in its handling of Catholic-identifying white nationalist and supremacist individuals and groups.
The article began with a claim that a bishops pastoral letter on racism was silent on 'three famously extreme symbols of racism' (nooses, swastikas, and the Confederate flag). The letter in question does in fact name nooses and swastikas as a 'tragic indicator of rising racial and ethnic animus,' though the article says the bishops voted not to condemn them all. The Confederate flag is not named in the letter.
This factual error was then used as a key example to link failures in leadership of the Church to the growth of white nationalist and supremacists groups with ties and connections to Catholicism. This was a theme that would be returned to throughout the article and ultimately I felt that the broader theme of the article would not be corrected by a simple factual correction.
This was a difficult decision because I agree with large portions of this article especially where, and as it sought to call out, those who would seek to use Catholic theology and teaching to justify their white nationalist and white supremacist beliefs and actions. However, the article too closely linked the words, actions, and ideologies of individuals and groups to the leadership of the Catholic Church.
All institutions, including the Catholic Church, need to continually acknowledge and address their roles and responsibility as it relates to issues of racial justice. This article failed to place in context the ongoing work of Pope Francis and the Catholic Church to address these issues which would have led to a fuller and more comprehensive understanding of the work being done by leadership within the church. We also know and believe that the Catholic Church, as with all institutions, including our own, has more work to do to address these issues.
We have been in conversation with the author of this piece. I told him how much we respect him and his scholarship, and that we would like to work with him further on these important themes in publishing future articles by him that properly go through our normal editorial processes. We are grateful for his writing, insight, and relationship.
We apologize to all those who feel unjustifiably attacked including our Catholic friends, the author, our editors who worked on the article, and our readers. As an organization and publication, we remain committed to journalistic excellence and integrity. Given the damage done in this situation, I take personal responsibility as Editor-in-Chief for not realizing and correcting the oversight in our process.
Sojourners remains committed to confronting white supremacy and white nationalism—unremittingly--and the errors in our internal processes in publishing this piece grieve us even more given the clear intent of the author and our staff. We have and will continue to learn from this as we seek to restore trust and become an even better publication and organization in our practices and processes.
— Jim Wallis, Editor-in-Chief
July 28
Sojourners has removed this article from our website. It was offensive and should not have been published. We are sorry and are looking into our internal processes. This article did not meet our editorial standards for accuracy, fairness, and balance. White supremacy and alt-right factions are insidious realities of the American society and indeed have manifestations in all our communities of faith. But this article made unwarranted insinuations and allegations against many Catholics, many in leadership, including the bishops, and within the wider Catholic Church who are working toward and are committed to racial justice. We are sorry for harm this article has caused in those efforts and we will work to repair the damage.
— Jim Wallis, Editor-in-Chief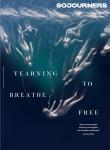 This appears in the August 2020 issue of Sojourners
Got something to say about what you're reading? We value your feedback!