IN THE 1930s, the Marx Brothers took political satire seriously enough to make a comedy about imperialism. Duck Soup stands today as one of the most comforting movie antidotes to the depressing post-9/11, enemy-until-proven-friend political culture. The 1960s saw Stanley Kubrick upgrade the cinematic presentation of war into Dr. Strangelove: Or How I Learned to Stop Worrying and Love the Bomb—employing the Screwtapian dictum that if the devil cannot bear to be mocked, then the best way to reveal the horror of war is to laugh at it. A decade later, Mel Brooks attacked—and transcended—white supremacy in Blazing Saddles, a film whose coruscating offensiveness is merely a mirror to our own prejudices. Sacha Baron Cohen is the evident successor to the Marxes, Kubrick the comic satirist, and Brooks. (Some of Michael Moore's work, and both Armando Iannucci's In the Loop and Chris Morris' Four Lions, deserve attention in this light too.)
Baron Cohen's trilogy of fish-out-of-water-in-the-U.S.A. films, Borat, Bruno, and current release The Dictator, taken together, constitute both deliriously funny entertainment (sometimes confused, and with something to offend truly everyone) and a jeremiad against the monstrosities of our time: racism, sexual violence, homophobia, xenophobia—and that's just for starters. The Dictator has post-9/11 politics, the war on terror, Islamophobia, and anti-Semitism clearly in its sights. Our hero—for that is what he ultimately becomes—is a Middle Eastern tyrant in the Saddam/Gadhafi mold, with a bit of Ahmadinejad and even Kim Jong-Il thrown in for good measure. He gets lost in New York and experiences what life is like outside the palace, leaving behind its personal executioner and other amenities. His path to liberation and respecting others comes through working in a vegan grocery store—not an unrealistic program in the non-cinematic world. What's remarkable about his transformation is that it comes in response to meeting a broader variety of characters than you'd find at the U.N., and to being mentored in treating sexuality (his own and others') with more respect.
Read the Full Article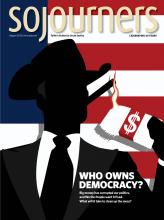 ​You've reached the end of our free magazine preview. For full digital access to Sojourners articles for as little as $3.95, please subscribe now. Your subscription allows us to pay authors fairly for their terrific work!
Already a subscriber?
Login