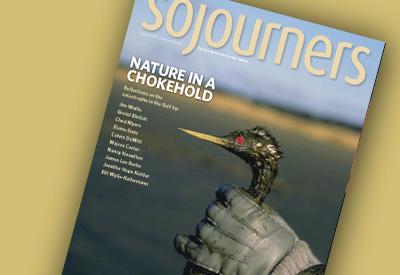 Before breakfast on a snowy Friday, Philip Frabosilo preached in a booming voice to 30 men and women at St. Paul's Soup Kitchen in Manhattan. Frabosilo, a large, mustachioed man in mismatched clothes, drives a yellow cab. But his passion is "Rolling for Jesus," the one-man street ministry he operates from his taxi.
"I minister day and night, feeding, singing, having fun with people, trying to move them away from traditional views if they're dead-end views, and getting them involved with a real relationship with God," Frabosilo told Sojourners in an in-cab interview.
As the soup kitchen attendees ate, Frabosilo packed up his taxi, medallion 3C49.
Frabosilo, 58, began using his cab for more than collecting fares nearly 30 years ago. Every day, he gathers shop owners' leftover pizza, bagels, sandwiches, and cold cuts to distribute from his cab. The lifelong Brooklyn resident then drives to spots where the homeless congregate, passing out pizza and spreading his word.
Frabosilo's spiritual transformation three decades ago galvanized his ministry.
"I was basically a heathen all my life, so I went from darkness to light," he said, crediting his inspiration to "my lovely wife, Judy, the effect of her commitments, my father's death, and the study of the scriptures themselves."
Frabosilo calls himself "a volatile character," since he advocates a churchless Christianity. Before his transformation, Frabosilo was Catholic, "a good little Christian." Now he rejects organized religion and has eschewed formal ordination, though he considers himself an anointed minister.
"You can't see this anointing," he said, "but it can be felt by others."
A pastor affirmed his beliefs when he began preaching, Frabosilo said: "The pastor said to me, 'You're a hurricane, son. And hurricanes don't belong indoors, they belong outdoors.' That statement was leading me away from the structures of Christianity. Today I believe I am an outdoor evangelist."
On one street mission, Frabosilo spotted a woman sitting amid trash piles in Chelsea.
"I have some pizza today and some sandwiches," Frabosilo called. "Would you like some warm pizza or sandwiches?" She did not respond. "Can you get up, or you want me to come to you?" Frabosilo asked. "You can stay there, it's all right. Is there anybody else there, or are you alone?" Frabosilo emerged from the cab and brought her a slice of Sicilian pizza.
"On good days I get to feed as many as 50 people," Frabosilo said. "Lots of times it's only a dozen or two dozen. Most of the rest of the day is giving out food at shelters to men who stand outside."
On Mott Street in Chinatown, Frabosilo spotted an elderly Chinese man pushing a wire cart. "Poppy, I got pizza. For you! Hot. You like pizza? I eat Chinese food, you eat pizza," Frabosilo coaxed. The man approached the cab and took the pizza with a toothless grin.
"Hallelujah!" Frabosilo exclaimed.
"Everyone who hangs out with Pastor Phil gets fat," he said. "I think God had to make heaven larger because I'm making everyone so fat."
The cab smelled of garlic and warm dough from the pizzas and bagels. Frabosilo kept a cold pie in the front passenger seat and warmed slices on the dashboard radiator at red lights.
"Sometimes I put together half a dozen bags of bagels and hand them to passengers because I like everybody to enjoy," he said.
Like any other cabbie, Frabosilo picks up passengers. But unlike other cabs, his is populated with photographs, toys, and laminated Bible verses. Frabosilo removed the partition because it inhibits "that free spirit that's so delightful" with passengers.
Most strikingly, Frabosilo doesn't run his meter. He lets passengers pay what they can, reflecting his aversion to money. "If I die with more than 15 pounds in the bank, consider me a liar," Frabosilo said, paraphrasing Methodist preacher John Wesley.
Although Frabosilo has been ministering on the streets for years, now, with more people homeless, he is needed more than ever. "It's a little sad that many of the shelters are closing down," he said. "But I don't mind. As they close down, I just feed more people in the streets."
Frabosilo parked at the New York City Rescue Mission on Lafayette Street, a regular stop. "We'll drop off bagels and maybe one box of pizza," he said. He turned on the cab's hazard lights and emerged from the driver's seat hauling a black garbage bag of bagels from the overstuffed trunk to two Mission employees.
Frabosilo continued to the Bowery Mission. "Now there may be 30 or 40 guys standing outside," he said. "If so, we're going to have an exciting 10 minutes because these guys are going to eat all my cold pizza."
James Macklin, the Mission's director of outreach, met Frabosilo 20 years ago, when Macklin himself was homeless. "He's a man of faith, and he doesn't hide it," Macklin said. "All you have to do is get in his cab and see it."
"Obviously he's not in it for the money," he added. "Because if he were, he'd be running all over the city like everybody else. That's the measure of a man."
Outside the Mission, 10 men approached the cab. "Tell the guys I got just a couple of warm slices," Frabosilo yelled. Within 15 minutes, the pizza was gone, but Frabosilo noticed pizza toppings on the sidewalk. "Of course they're very beautiful slices, but not everybody's cup of tea," Frabosilo said. "This slice over here is a very unusual mixture of smoked mozzarella and capocollo."
He bemoaned the wasted food. "This slice is like $6," he said. "Capocollo costs like $8 a pound."
As Frabosilo drove away, he considered the people he serves. "Being poor and not having a roof over your head is about as bad a thing that can happen to you," Frabosilo said. "The only thing worse than that is death."
Frabosilo spotted a woman hailing a cab.
"Now I'm going to be a cab driver and make a little money," he said. "Not too much."
Marcella Veneziale is a freelance journalist in New York City.