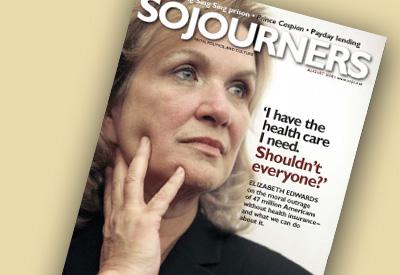 Widespread violence broke out in Kenya after President Mwai Kibaki declared himself victorious following disputed elections in late December 2007. The conflict claimed an estimated 1,000 lives and drove hundreds of thousands of people from their homes, many of whom have yet to return.
Mennonite Central Committee—a relief, service, and peace agency of the North American Mennonite and Brethren in Christ churches—is supporting a Kenyan organization, Nairobi Peace Initiative-Africa, in a project to reconcile Kenyans divided by ethnic and political differences. George Kut, a coordinator for NPI-Africa, described this "listening project" in an interview this spring with Tim Shenk, a writer for MCC.
Tim Shenk: How did the National Peace Initiative (NPI) listening project get started?
George Kut: When the election results were announced, there was a lot of violence that erupted in different parts of the country, particularly those parts that supported the Orange Democratic Movement, which was the major opposition during the campaign. Because of the violence, the killings, a lot of looting, and a lot of very violent demonstrations, we needed to consider the ideas, the stories, and the images that people of Kenya hold of the crisis and in time be able to translate this into leadership capacities for peace.
At NPI, we decided to go out to those people and listen to their stories, to hear what sense they made of the particular violence that was going on. That was really the purpose of the listening project.
Did this involve people who were committing the violence, as well as others affected by it?
Yes. During the first stage of the listening program, we were targeting mainly the leadership of the militia groups of the country. One day I was in Kisumu city, in the western part of the country, the headquarters of the opposition. I managed to get information when I was listening to members of a youth militia that was planning an attack on a police station where members of another community were hosted. I informed the police about the planned attack, and the police were able to move in and evacuate people. We did quite a number of such activities during the violence. We were listening and acting at the same time.
How has the situation changed since then?
The moment the two leaders [President Kibaki and opposition leader Raila Odinga] began to discuss power sharing, former U.N. Secretary-General Kofi Annan asked the country to be calm—to wait two weeks to conclude the power sharing issues—and we saw people calm down. But people have not stopped their demands. What they have stopped is the direct violence. However, the structural violence is yet to be addressed. Remem­ber, there was displacement and people moved very far from one another. And if you go to any area, you will find communities that drove the other away. They have not been able to meet.
What you have seen are only leaders meeting in Nairobi. There was a disconnect between top leadership and the grassroots leadership, and actually the violence has taken on its own life. There is no process that has tried to address this. There is a very big latent conflict, because what we saw during the listening visits—for example, the militarization of the youth—has not stopped. The youth that were preparing themselves for war are still continuing to do so.
What did you discover through the listening process?
Our listening process actually found three types of violence. First, we are looking at the direct violence. How did it happen? Then, we are also doing a thorough analysis of structural violence and even cultural violence. The deep-rooted issue is the cultural violence that actually builds on many of the cultural stereotypes and beliefs and traditions of people.
What kinds of stereotypes did you find?
There are many stereotypes that are based around religion and cultural practices. For example, members of the Luo community in western Kenya point fingers at the Kikuyu community, which had the biggest support for the ruling Party of National Unity. The Luos and the neighboring communities say, for example, that the only good Kikuyu is a dead one. And, they say, if you see a dead Kikuyu, you need to drop a coin next to him or her; if the body does not make any move, then you are convinced that the Kikuyu is dead. What does that mean? That they will do anything to get money.
On the other side, from the Kikuyu community, there is a general stereotype about Luos that they are proud people. They are so proud that they will not do anything tangible in leadership apart from living lavishly.
How do you respond to this kind of cultural conflict between communities?
We have quite a number of tools that people use to analyze their own actions, their own contribution to violence, based on their stereotypes. When you take people through these reflective processes, then people are able to identify the role that those stereotypes played in the conflict formation, from the immediate post-independence period up to the recent crisis. We also use some tools that help them look at themselves in terms of destroying others.
I will give you a very quick example. In one session of the process, we asked people to draw paintings. In the next step, they select which paintings look alike and form a group out of those paintings. We ask them to prepare a very good picture out of their own paintings and even make presentations about it. People really get engaged in working together to put up very wonderful pictures, and we ask them now to give it a name. And they come out with a name, a very wonderful name of their picture, and they own it.
Then we ask them to destroy them, to tear those images that they have formed. And in fact we actually threaten to begin to tear, and we feel a lot of resistance. Some people even get hurt and annoyed, saying "But why? We took so much time to come up with this picture; it is so good; it belongs to us; and then you want to destroy it, by tearing it, as if it didn't take any effort."
We ask them to look at it as a symbol of life, that people have built their story over a long period of time, and during crisis you just tear apart that life that has been built over a long period of time. The kind of reaction and the kind of sharing that comes out of that experience begins to work outward. People give us examples of what they saw—such as camps or buildings that were destroyed—and that it took people their life, their time, to have built those things.
While people are engaged in such discussions, they begin to see how bad it is to destroy somebody's life like that, how passionate that life is to them. We also give them the tools to go and work it out with their own constituencies, whether it is with church groups or women's groups, and then begin to help people appreciate living with one another.