Rt. Rev. Mark Dyer, an Anglican bishop known for his wit as well as his wisdom, famously observes from time to time that the only way to understand what is currently happening to us as 21st-century Christians in North America is first to understand that about every 500 years the church feels compelled to hold a giant rummage sale. And, he goes on to say, we are living in and through one of those 500-year sales.
While the bishop may be using a bit of humor to make a point, his is nonetheless a deadly serious and exquisitely accurate point. Any usable discussion of the Great Emergence and what is happening in Christianity today must commence with a discussion of history. Only history can expose the patterns and confluences of the past in such a way as to help us identify the patterns and flow of our own times and occupy them more faithfully.
The first pattern we must consider as relevant to the Great Emer­gence is Bishop Dyer's rummage sale, which, as a pattern, is not only foundational to our understanding but also psychologically very reassuring for most of us. That is, as Bishop Dyer observes, about every 500 years the empowered structures of institutionalized Christianity, whatever they may be at that time, become an intolerable carapace, or hard shell, that must be shattered in order that renewal and new growth may occur. When that mighty upheaval happens, history shows us, there are always at least three consistent results or corollary events.
First, a new, more vital form of Christianity does indeed emerge. Second, the organized expression of Christianity that up until then had been the dominant one is reconstituted into a more pure and less ossified expression of its former self. As a result of this usually energetic but rarely benign process, the church actually ends up with two new creatures where once there had been only one. That is, in the course of birthing a brand-new expression of its faith and praxis, the church also gains a grand refurbishment of the older one.
Read the Full Article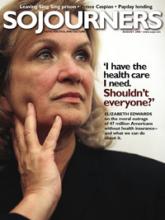 ​You've reached the end of our free magazine preview. For full digital access to Sojourners articles for as little as $3.95, please subscribe now. Your subscription allows us to pay authors fairly for their terrific work!
Already a subscriber?
Login