In my mind, I am climbing above the tree line. The air is dry. I'm higher than the gnarled spines of the bristlecone. Above where the noisy jay birds chatter a blue streak. It's hot here. The sun liquefies and soaks through the skin into the bones, making, it seems, the very marrow melt like wax.
Why am I here? I need to climb above the daily news, to somewhere I can breathe. In the valley below, I'm overwhelmed with anxiety, grief, and a curious disinterest in the news: 51,000 dead from an earthquake in China; 78,000 dead from a cyclone in Burma. A thief broke into a church-run food bank in Virginia and stole $1,000 worth of canned goods. (Apparently, there's a demand for black-market canned goods.)
From the crest of this ridge, I see three bent mountain lakes, bluer than the jays. All they do—these lakes—is praise. With every twisted thread of blue woven through their luminous watery skin, they praise. The mountains that cup them are young—15 to 20 million years old. Perhaps the lakes are the alleluia of the mountains.
IF THE HILLS, STREAMS, and lakes can praise in this way, what is the utterance of the earthquake in China, the cyclone in Burma, the food thief in Virginia? If all are part of a hymn of praise that stretches from before Time to after Time, what is the prayer? Hebrew and Christian scriptures say when mortals veer too wide from the laws of the Creator—and there is no effective witness against them—"the very stones will cry out."
If creation is the first grace, the first revelation of God's goodness, as Catholics believe, can we read these natural disasters as the earth's psalms of lament? And when, in a human society, the hungry steal from the hungry, who has sinned?
Read the Full Article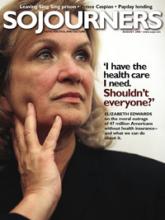 ​You've reached the end of our free magazine preview. For full digital access to Sojourners articles for as little as $3.95, please subscribe now. Your subscription allows us to pay authors fairly for their terrific work!
Already a subscriber?
Login