LATELY I'VE BEEN reading nonfiction books, finding their less-debatable truths a comforting contrast to the fearsome unpredictability of today's world. Previously, I had blocked out that world by reading fiction from the horror genre, but stories about people facing unspeakable terrors just seem too cheery these days.
So I've settled on works that detail the hard facts of science, lately the origins of humankind. Did you know that we modern human beings are only one of several species of humans throughout evolutionary history? (Evolution being what Charles Darwin dreamed up to cover his childhood disappointment that unicorns weren't allowed on Noah's ark. So sad.)
I didn't realize that we current humans—called homo sapiens, which is Latin for "smarter than those Neanderthal doofuses" (doofi? )—didn't evolve as one species, seamlessly blending into each next version, like that drawing of hunched figures emerging from the sea to eventually straighten to full height and check email. No, each human species came into existence in a distinct arc of development.
Neanderthals, which preceded us, were actually stronger and had larger brains than the later homo sapiens, but lived virtually unchanged for millennia, their tools never improving, their nomadic lifestyle never maturing into more organized communities. They stubbornly stuck to their ways, and might even have said, "Hey, why reinvent the wheel?" had they invented the wheel in the first place. Which they didn't.
Fire they mastered quickly, of course, using it for cooking and warmth, but the programmable thermostat never occurred to them.
Read the Full Article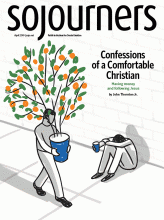 ​You've reached the end of our free magazine preview. For full digital access to Sojourners articles for as little as $3.95, please subscribe now. Your subscription allows us to pay authors fairly for their terrific work!
Already a subscriber?
Login