I just read "Why We (Still) Can't Wait" (by Rose Marie Berger) in the February issue of Sojourners. Thank you! It's important to keep talking about the Beloved Community; it prevents us from being divided by so many social labels.
E. Ethelbert Miller
Washington, D.C.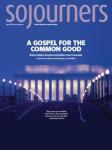 This appears in the April 2013 issue of Sojourners
Got something to say about what you're reading? We value your feedback!