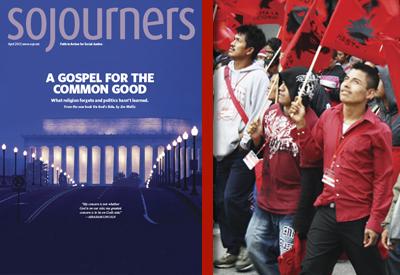 BREAKTHROUGHS ON immigration reform will make life easier for some Latino immigrants, but in the sweltering, often-toxic fields where farm workers toil each summer from Maine to California, conditions can still be dehumanizing and dangerous. There is a silver lining, however. With the burgeoning growth of the nation's Latino population, there are more advocates than ever working to improve the plight of the men, women, and often children who do hard labor on our nation's farms.
With a mostly young, deeply committed staff, the Florida-based Coalition of Immokalee Workers (CIW) is doing solid grassroots work to make life better for workers in the state's tomato industry. With cooperation from 11 food retail and food service corporations, CIW has implemented the Campaign for Fair Food, which has brought modest wage increases, worker protections, and grievance procedures to farms that produce 90 percent of the state's tomato crop.
Using a worker-led administrative structure and significant public pressure, CIW has brought companies such as McDonald's, Burger King, Pizza Hut, and KFC into its program that asks corporate partners to kick in an extra penny per pound for the tomatoes they buy. That premium is passed on to growers to increase worker pay.
Elbin Perez, 23, a farm worker from Guatemala, has been working in the U.S. for six years, sending part of his wages back home to his parents and five siblings. As a CIW member, Perez leads "worker-to-worker education programs." Those trainings educate workers about CIW's code of conduct, which growers have agreed to uphold. Reforms include use of time clocks, guaranteed minimum wage, and water and shade breaks.
Perez said prior to the implementation of CIW's reforms, he witnessed many hardships in the fields, including wage theft, unsafe conditions, and sexual harassment of women workers. Perez told Sojourners it has "made an enormous difference to be part of the coalition."
When he visits CIW-partnered farms, Perez convenes meetings with workers and crew leaders during business hours on company property about the Fair Food program "point-by-point, right-by-right, explaining each one in detail," he said.
THE DOWNSIDE OF the Fair Food initiative is that it only includes tomatoes, and because it requires cooperation up and down the supply chain, many corporate giants, such as Publix and Wendy's, have not signed on with CIW, whose campaigns include grassroots strategies to expand its reach and depth.
The CIW chose tomatoes because they're Florida's largest crop, employing the most workers. Tomato picking is also the most difficult work. However, CIW's long-term plan is to expand to other crops, said Joe Parker, of the Student/Farmworker Alliance, a CIW partner agency.
Publix, Florida's largest supermarket chain, is a lynchpin for CIW, which is sponsoring a spring campaign that includes a two-week march from Ft. Myers to Publix's headquarters in Lakeland, Fla. "Everyone nationwide is waiting to see what Publix does," said Jordan Buckley of Interfaith Action of Southwest Florida, another CIW partner organization.
Perez said worker protections, such as the ability to redress grievances and report abuses "without fear of retaliation," have "allowed farm workers to feel comfortable with filing complaints." Many times, he said, problems can be resolved "in the fields."
Abusive practices by crew leaders have declined, Perez said, and the time clock, punched by workers as soon as they arrive on the farm, replaced a system that allowed growers to bring workers to farms hours before they actually started work, time that was not compensated. The later starting times make it easier for families, who now can take care of their children before heading to work.
"We are starting to see a new day dawning in Florida agriculture," Perez said.
Up the East Coast in North Carolina, the Farm Labor Organizing Committee union (FLOC) is in the midst of a campaign to bring tobacco giant Reynolds American to the bargaining table to improve the plight of tobacco workers. In previous union campaigns in Ohio (tomatoes) and North Carolina (cucumbers), FLOC has used tactics such as boycotts and supply-line pressure to win victories. Winston-Salem, N.C.-based Reynolds, which registered nearly $2 billion in profits last year, fought FLOC's campaign for four years before agreeing last August to join a committee comprised of tobacco manufacturers, tobacco growers, and farm workers that will address issues such as freedom of association without fear of retaliation, wages, housing, forced labor, and supply chain inequities.
FLOC founder and president Baldemar Velasquez (see "On Earth as in Heaven") has used an "engaging-the-supply-line" tactic to gain leverage against corporate giants such as Reynolds. Velasquez traveled to Europe to meet with Reynolds' subsidiaries, where corporate officials were more sympathetic to the plight of U.S. farm workers. He initiated campaigns to pressure convenience store chains Wawa and Kangaroo Express, two of Reynolds' biggest buyers, to intervene and ask Reynolds to enter into talks with FLOC.
"Anyone who's involved in the production, distribution, and sales of a product is subject to being held accountable to anyone who is suffering, who's being exploited, who's being treated as less than a human being; so that's fundamental," Velasquez told Sojourners. "You're talking about a very diversified agricultural system in which tobacco is one of the main crops, which maintains the economy of these small, individual-family farms. So we're very calculated in terms of taking on the tobacco industry, holding them accountable."
The cost of doing business in the production chain must also "be sustainable for the farmer and the workers that do the back-breaking, sweaty, hard work to produce the wealth for those tobacco companies," Velasquez said.
IN 2012, labor union membership fell from 11.8 to 11.3 percent of workers nationally, yet FLOC and the United Farm Worker (UFW) unions have seen growth. Even in North Carolina, where just 2.9 percent of the state's work force is unionized—the lowest in the nation—FLOC has made headway. FLOC won a contract with the Mt. Olive Pickle Company in 2004, with backing from the state growers' association.
"Strangely enough FLOC has flourished at the times when unions have had it the worst," Velasquez said, noting that the union's collective-bargaining agreement with Campbell's Soup came in the 1980s, the period when Ronald Reagan's anti-union initiatives broke up the air traffic controllers' union.
UFW vice president Giev Kashkooli said the California-based UFW has been growing the last couple of years in terms of membership, collective bargaining agreements, and contracts, "and we're hopeful for an even bigger year this year." California employs half of the nation's agricultural workforce.
NATIONALLY, FLOC AND UFW have shifted priorities to include immigration reform initiatives. "The one big thing that we do nationally in a very coordinated way is our work on trying to win a new immigration process," Kashkooli told Sojourners. "It's totally integrated into what we do.
"If the question is asked among our members, 'Who knows someone that's been deported?' everyone will raise their hand."
FLOC director of programs Justin Flores, who works out of Dudley, N.C., said FLOC's labor organizing and immigration reform efforts are one and the same. "They're almost inseparable because there are almost no U.S. citizen or permanent-resident farm workers in this state."
With no blueprint established for immigration reform, Roberta Perry of the National Farm Worker Ministry, a 93-year-old faith-based organization headquartered in St. Louis, worries that farm workers may be required to provide documentation to prove their work histories in the U.S., a requirement that will be near-impossible to meet. Pay stubs, rent receipts, tax records, and other proof, Perry said, may be required in order for farm workers to be considered for residency, records that for many may not exist.
Catherine Tactaquin, executive director of the National Network for Immigrant and Refugee Rights, said she had little hope President Obama would be able to accomplish immigration reform in his first term. Tactaquin, 61, the daughter of an immigrant farm worker father from the Philippines, said, "The politics of the Right have dominated immigration policy for more than two decades. We never believed immigration reform would move during the last four years; it was more likely that that door would open in this term, which is what has happened."
Patrick O'Neill is a freelance writer living in Raleigh, N.C.