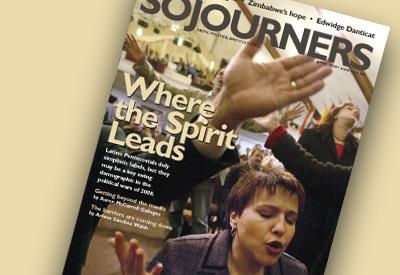 Writing in the late 1920s about one of his many trips back and forth across the United States-Mexico border, American Pentecostal missionary Henry C. Ball mentioned that he received his certificate of fumigation after re-entry to the United States. However, while he received this official document, it is unthinkable that Ball, a white man, was actually sprayed with pesticides.
Fumigation was a humiliation reserved for Mexicans crossing into the U.S. from the early to middle 20th century. The mention of the certificate by Ball, one of the pioneers of Pentecostal missions to Latinos/as, seems to have been an aside: It did not offer any insight into the fumigation procedure, was not critical of the overall program, and reveals no evidence that the incident caused Ball to be introspective about the plight of Mexicans who endured this treatment. He did not articulate any theological response to this program or indeed to any other injustice that befell Mexican immigrants. He, like most white Pente­costal missionaries, viewed such injus­tices (and they knew and wrote of others) as secondary to salvation.
Influenced by such missionaries, Mexican and other Latino Pentecostals historically did not view the established political process as a place where they would find relief from their grievances. One seeking to examine modes of resistance among Latino Pentecostals will find few if any of the traditional markers of political activism. But one will find many examples of Latino Pentecostals engaging in alternative modes of resistance by seeking to reclaim their autonomy from mostly Anglo Pentecostal denominations that, more often than not, did not accept that Latinos could govern themselves.
The story of Francisco Olazábal serves as an example of the historically distinctive way that Pentecostals set themselves apart from other Latino Christians in terms of social activism. Olazábal, a pioneer Latino Pentecostal leader, finding his suggestions to higher-ups rejected and with his options dwindling, broke with the Assemblies of God in the 1920s. Convinced that Latinos could successfully open a Bible school, operate a printing press, and govern their own churches, Olazábal formed his own denomination to counter the Assemblies' growth among Latinos on the borderlands. Political change for early Latino Pentecostals almost always came in the form of such resistance within the church rather than out in the world.
When they did resist external structural injustice, Latino Pentecostals rarely engaged in social activism of the type that marks, for example, the historic black church. Instead, resistance took forms such as blurring the legal boundary known as the U.S.-Mexico border, working on both sides to alleviate the suffering of repatriated Mexicans during the Great Depression. Resisting the structural injustice of unequal education, Latino Pente­costals during the 1930s and '40s maintained affordable and accessible theological education in an era when few Latinos of any denomination went to seminary. When the post-World War II generation of Latino youth began to be criminalized in the media and by urban law enforcement entities throughout the U.S., Latino Pentecostal movements such as Victory Outreach (founded in 1967) created a space where Latinos could seek relief from social pathologies of drug addiction, violence, and perpetual incarceration.
Of course, these are my interpretations placed on past realities. No one would mistake the actors in these efforts for political progressives. Rarely if ever have I seen Latino Pentecostal leaders of past eras describe their ministries as having any political angle. To do such a thing, they might say, would diminish the religious efficacy of their message and its results. While not discounting individual acts of overt political activism, Latino Pentecostals generally did not engage in politics until fairly recently because it was viewed as too worldly an endeavor. Political engagement was limited to issues related to church and faith because those things would not take believers too far out into the secular world of politics.
When Latino Pentecostals become involved in politics, it is often to support causes that buttress conservative social mores. There are literally dozens of individual acts by local pastors and churches that have engaged Latino Pentecostals in the culture wars. From protesting the inclusion of gay-friendly children's books in New York City schools to marching against local gambling initiatives, Latino Pentecostal proclivities have been to engage what they consider to be a "lost" culture, rather than seeking to remedy structural social ills.
A recent survey by the Pew Hispanic Center on Latino Religion offers us some idea of where Latino evangelicals (which includes most Latino Pentecostals) are politically. For instance, 64 percent of respondents said that abortion is the issue they hear most about from the pulpit, while 58 percent said it was "homosexuality"; only 35 percent reported hearing a sermon about immigration. Furthermore, on the issue of immigration, the numbers are sobering. Among a general sampling of Latinos, 66 percent say that immigration strengthens society. Among Latino evangelicals, that number is only 59 percent, with 33 percent of Latino evangelicals saying that immigration threatens society.
Where this trend seems to change is when one examines these issues generationally. Immigrant Latino evangelicals are the most conservative. As Latino evangelicals acquire English language fluency and become more enculturated into U.S. society, they tend to become more progressive. Most English-dominant Latino evangelicals, for example, oppose the death penalty; 70 percent believe the government should provide health insurance to everyone; and 66 percent are willing to pay higher taxes to fund it. A majority (60 percent) of English-dominant Latino evangelicals believe that religion has a role to play in alleviating social ills. Among these third- and fourth-generation Latino evangelicals, some pastors have gotten involved in the ongoing legal battles over immigration.
Because historically the overt mixing of politics and faith was viewed as too secular an endeavor, it is no surprise that stories of Latino Pentecostal pastors actively involved in political action are not more numerous. But the ones that exist are important because they possibly signal a shift from avoiding political action to recasting political action as an act of faith. One example is Rev. Ruben Diaz, a Democratic state senator from the Bronx, whose brand of progressivism equates responsible government spending on social programs with "family values."
When it comes to immigration, one of the more prominent stories comes from Hazelton, Pennsylvania, where Rev. Edwin Mieses organized his congregation against the anti-immigrant laws passed in 2006. Why engage now? As Mieses explained to The New York Times, he saw the effects of these anti-immigration laws: Rather than simply a set of laws meant to force the state of Pennsylvania and the federal government to enforce existing immigration laws, the Hazelton laws led to overt harassment of Latinos, undocumented or not. Mieses describes being harassed himself as he went to get a haircut.
When faced with the day-to-day problems of a congregation—housing, work, child care, school, marriage—most Latino/a pastors recognize that many in their congregations are here without documentation. This underground living is the source of great stress for families as they become targets for exploitation as well as scapegoats for those clamoring about national security.
Will local and individual actions ever lead to a national alignment of Latino Pentecostals with their Catholic brethren or their mainline Protestant ones? The seeds of such alliances are there, but they aren't all what progressives may want them to be. A couple of national organizations are attempting to meld ministry with politics: The Latino Leadership Circle is a loose network of evangelical leaders who seem to be trying to tie themselves to emergent evangelicals affiliated with Brian McLaren. They also are trying to move away from the debate on contentious issues such as gay and lesbian sexuality and abortion in favor of a broader discussion including poverty, the environment, and peace issues.
Another organization, the National Hispanic Christian Leadership Confer­ence, which includes charismatic and Pentecostal members, is in many ways more traditional and conservative in its political outlook. On its Web site, for example, is a petition for the "Defense of Marriage Act" and links to how members can support the troops in Iraq—along with several articles that support comprehensive immigration reform.
What perplexes many progressive Christians—Latino, white or otherwise—is how Latino Pentecostals could see themselves as benefiting from the conservative politics that many of them espouse. After all, it was Latino Catholics who mobilized in the 1950s and '60s for migrant worker rights and mainline Latino Protestants and Catholics who helped organize around the last round of the immigrant wars during the Sanctuary movement of the 1980s. Why have Latino Pentecostals not joined in broad coalition-building? The story of the Asambleas de Iglesias Cristianas (Assembly of Christian Churches) may help progressives understand this seeming contradiction.
The Asambleas was founded out of the work done by Francisco Olazábal. Determined not to be supervised by white or Mexican overseers, the Puerto Rican Asambleas broke from Olazábal's group in the 1950s out of a sense that the Olazábal family was becoming too autocratic. The Asambleas is currently a small, very conservative denomination that enforces a dress code, does not allow women's ordination, and focuses heavily on retaining its Puerto Rican base of congregants. The church does not allow its members to engage in warfare, despite the fact that most other Latino Pentecostals support the current war in Iraq. This pacifist trend might lend itself to progressive political leanings. But generally it doesn't because, rightly or wrongly, members of the Asambleas assume that progressive politics moves them one step closer to progressive theology, which many Latino Pente­costals fear will diminish their witness.
Predicting where a religious movement will go in the future is always tricky speculation, but if one simply looks at sociological trends, it is almost always the case that as generations acculturate, they become more liberal, because they view the culture and faith of their parents as outmoded. This is already the case among third- and fourth-generation Latino Pentecostals, many of whom are not in the same Spanish-speaking churches as their parents. These Pentecostals are slowly becoming part of that larger body called the evangelical Left—where issues such as the environment, immigration, and education will become part of a cohesive faith life that will not parrot the concerns of the largely white evangelical Left, nor be an outgrowth of the concerns of the historic black church.
In order for Latino progressive Pentecostals to find their voice in this movement, their concerns must emanate from their communities and from their churches. The autonomy they have sought for 100 years within U.S. Pentecostalism must be part of any role that they play in the progressive Christian community. Paternalism comes in many forms, whether it is from white denominational leaders or progressive political ones. Progressives will need to see to it that paternalistic actions and attitudes are not a part of our desire to bring Latino Pentecostals into our community.
Arlene Sánchez Walsh is associate professor of church history and Latino church studies in the graduate school of theology at Azusa Pacific University. She received the Hispanic Theo­logical Initiative's Book Award for her first book, Latino Pentecostal Identity.