Rev. Libby Shannon is co-moderator of the Presbyterian Peace Fellowship and associate chaplain at Eckerd College in St. Petersburg, Fla.
Posts By This Author
Minister Ejected From Florida Supermarket for Support of Farmworker Justice
12-18-2012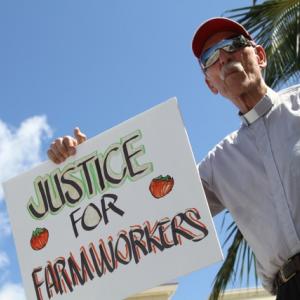 We have reached that point in the year when the images we are inundated with show off variations on a theme: the Norman Rockwell-esque holiday gathering. They are a testament to the ability of advertising to tug on our heartstrings as the large, joyful family sits down to a table lavishly set with the antique china, candles twinkling, and a feast spread as the Christmas meal in all its glory looms and the joy and generosity of the season is palpable.
Here in Florida, the grocery store chain Publix is as ubiquitous to holiday celebrations as pie. Publix has been a part of our Christmas celebrations for generations and yet this year impromptu runs to the family-owned grocer will simply not be an option for the Reverend Clay Thomas, or for those who stand with him.
As it turns out, earlier this year Reverend Thomas was ejected and then banned from a Sarasota, Fla., Publix.
His crime?
He supports the Coalition of Immokalee Workers (CIW).