Posts By This Author
Religious Liberty Battles Ahead Highlight Gorsuch's Importance as Conservative Nominee for SCOTUS
04-05-2017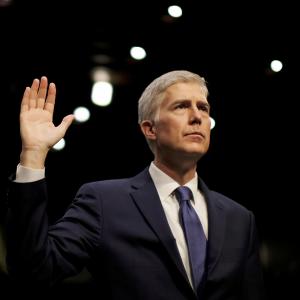 On April 19, the court will hear a religious rights case in which a church contends Missouri violated the Constitution's guarantee of religious freedom by denying it funds for a playground project due to a state ban on aid to religious organizations.
Gorsuch has ruled several times in favor of expansive religious rights during his decade as a judge.
"Given Gorsuch's solicitude for religious liberty, his joining the court can only help the church," said Ilya Shapiro, a lawyer with the libertarian Cato Institute think tank.
Democrats Amass Support Needed to Block Senate Vote on Gorsuch
, 04-03-2017
Senator Lindsey Graham, a Republican committee member, expressed regret that his party would be forced to change the Senate rules and said the "damage done to the Senate's going to be real."
"If we have to, we will change the rules, and it looks like we're going to have to. I hate that. I really, really do," Graham said.