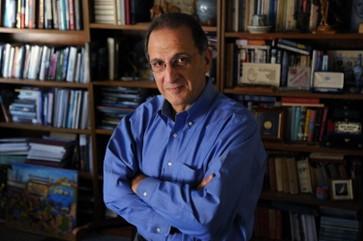 James Zogby co-founded the Arab American Institute, a Washington, D.C.-based organization which has served as the political and policy research arm of the Arab American community since 1985; he continues to serve as its president. He is director of Zogby Research Services, a firm that has conducted groundbreaking surveys across the Middle East.
In September 2013, President Barack Obama appointed Zogby to the United States Commission on International Religious Freedom. He was reappointed to a second term in 2015 and concluded his service in May 2017. Zogby has also been personally active in U.S. politics for many years; in 1984 and 1988 he served as deputy campaign manager and senior advisor to Jesse Jackson's presidential campaign. In 1988, Zogby led the first ever debate on Palestinian statehood at that year's Democratic convention in Atlanta, Ga. In 2000, 2008, and 2016 he served as an advisor to the Al Gore, Barack Obama, and Bernie Sanders presidential campaigns.
For the past three decades, he has served in leadership roles in the Democratic National Committee. He currently chairs the DNC Ethnic Council, an umbrella organization of Democratic Party leaders of European and Mediterranean descent. He served on the DNC's Executive Committee from 2000 to 2017 and for more than a decade served as co-chair of the party's Resolutions Committee.