Grace Ji-Sun Kim is an associate professor of theology at Earlham School of Religion. Grace Ji-Sun Kim obtained her M.Div. from Knox College and her Ph.D. from the University of Toronto. She is the author of 13 books, most recently Embracing the Other: The Transformative Spirit of Love. You can find more of her writing HERE or at the Huffington Post blog.
Posts By This Author
Kenneth Bae's 500th Day: Life's Cycle of Fear, Pain, and Suffering
03-18-2014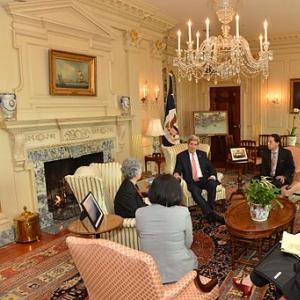 Today marks Korean-American Christian missionary Kenneth Bae's 500th day in a North Korean prison. Bae was arrested in November 2012 while leading a tourist group. State-run media reported that he was convicted of attempting to lead a religious anti-North Korean religious coup. He has been sentenced to 15 years of hard labor. Bae is a reminder to all of us that Korea remains divided. Brothers and sisters are separated and friends are divided between the 38th parallel.
I was born in Seoul, South Korea. My mother and father were children during the Korean War, and my mother told me a few stories of how they had to flee during the war. She was a young child, one of eight. My grandmother would gather the children and walk for miles and miles making their way down into southern Korea. As they were fleeing one day, a bullet went through my grandmother's thigh and created permanent damage to her leg. As a young child, I thought it was a wonderful war story of heroism and courage. I didn't realize then the agony, fear, and suffering that my parents or my grandparents went through to keep safe and keep alive.
As the Korean War lingered on, it ended with the division of Korea at the 38th parallel. That division is a stark reminder of how a beautiful, lovely country can be filled with pain, sorrow, animosity, and suffering. The 38th parallel has kept family members and loved ones apart for almost 60 years. Many divided families are unable to reunite or unable to know if their relatives are still living and doing well. The heartbreak of living apart in their own country has brought lots of anger, tension, loss, and suffering.
In Korea, people have a term for such suffering: han. Han is a difficult word to translate into the English language. The best way to do so may be through 'unjust suffering' or 'piercing of the heart.'
Walls That Divide
03-11-2014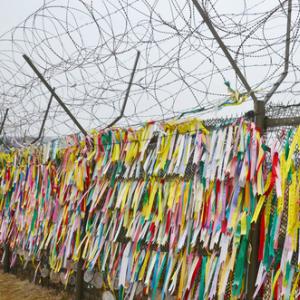 Walls exist between U.S. and Mexico. A few years ago, I took a class to the Mexico-U.S. border through BorderLinks, an organization that provides educational experiences to connect divided communities, raise awareness about border and immigration policies and their impact, and inspires people to act for social transformation. We visited the metal wall that separates the United States from Mexico at Nogales, Mexico.
The walls went up in 1994.
The North American Free Trade Agreement (NAFTA), established in 1994, was supposed to help with trade and the economic status of Mexico. However, it failed to do this. It backfired and made the economic situation worse for the people of Mexico. Rich corporations and companies that benefited from the Free Trade Agreement as they were able to move their factories down to Mexico where the labor was cheap and profits higher. As the economy of Mexico suffered, more people made their way, without documents, to the United States to seek work so they could support their families.
In 2006, the United States responded with the Secure Fence Act. As President George W. Bush signed the bill, he stated, "This bill will help protect the American people. This bill will make our borders more secure. It is an important step toward immigration reform." The act included provisions for the construction of physical barriers — walls — and the use of technology to these ends.
This wall is under constant surveillance to prevent people from entering into the U.S. illegally. Ironically, it is a wall built from the remaining metal landing scraps of the Gulf War. The border is highly militarized with patrols who treat migrants as "prisoners of war." It symbolizes militarization, greed, xenophobia, hatred, pride, nonsense, and fear of the other, a reminder of wanting to protect what is yours and not sharing what God has given you. Walls continue to go up along the border as the people of the United States continue to fear that undocumented people will take away jobs. These fears may devastate the lives of the poor in both countries.