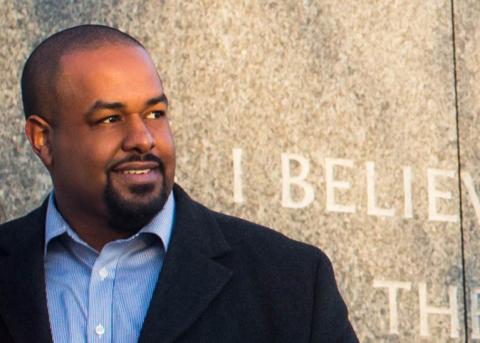 Joshua DuBois is a Sojourners board member and the author of the bestselling book, The President's Devotional: The Daily Readings that Inspired President Obama, and is one of our country's leading voices on community partnerships, religion in the public square and issues impacting African American men. Joshua led the White House Office of Faith-based and Neighborhood Partnerships in President Obama's first term and was called the President's "Pastor-in-Chief" by TIME Magazine. He spearheaded the White House's work on responsible fatherhood, grassroots community partnerships and religion in foreign affairs, and brought together religious leaders from across the ideological spectrum to tackle the nation's biggest challenges.
Joshua now leads a consulting firm, Values Partnerships, that creates faith-based partnerships for the public, private and non-profit sectors, teaches at Princeton University, and is the religion and values columnist for The Daily Beast. Joshua is a frequent media commentator and his work with faith-based organizations has been profiled in The New York Times, The Washington Post,ABC News' This Week, PBS Newshour, CNN and elsewhere. Joshua has been named to "The Root 100″ and Ebony Magazine's "Power 150" list of the most influential African Americans in the country. He has authored four cover stories for Newsweek magazine, including a seminal piece entitled "The Fight for Black Men" which historian Taylor Branch called "stunning."
Joshua received his Master's Degree in Public Affairs from Princeton University's Woodrow Wilson School and his Bachelor's Degree from Boston University. A former associate pastor at a small Pentecostal church in Cambridge, Massachusetts, Joshua originally hails from Nashville, Tennessee. He currently lives in Washington, D.C. with his wife, Michelle.