Antwan I. Saca is the Advocacy Officer at the Applied Research Institute Jerusalem -(ARIJ). He previously worked at the Holy Land Christian Ecumenical Foundation (HCEF), is an advocate of Palestinian rights, and is active in the Palestinian civil society movement for peace.
Posts By This Author
President Obama, You Are Welcome in Bethlehem
03-20-2013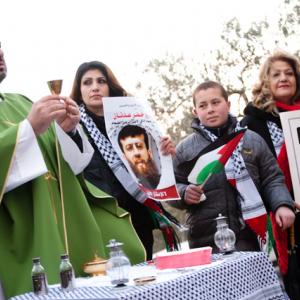 Mr. President, just like the many other visitors that we receive here in this land, we would do our best to overwhelm you with our cultural hospitality and our traditions. I would seize this opportunity to not only welcome you to visit Bethlehem, but also to welcome all U.S. citizens to visit my small city.
I invite you, Mr. President, to be in my city within the nation that has a dream of liberty — a dream that goes in rhythm with all nations' right of self-determination. We have embraced, as other nations, our pursuit of democracy, human development, and security. We have tumbled through our pursuits and have made mistakes, and because like all humans, as part of our human nature, we slip. We have built, learned, developed, and made our existence known to all nations.
Mr. President, I hope that in your visit you would not only enjoy the blessings of the Holy Land, but be encouraged to return and experience this city to its fullest. After you finish your presidency you will be able to visit without a big security escort and you will enjoy wandering the old streets and spending time in the old city of Bethlehem when you come back with your family.