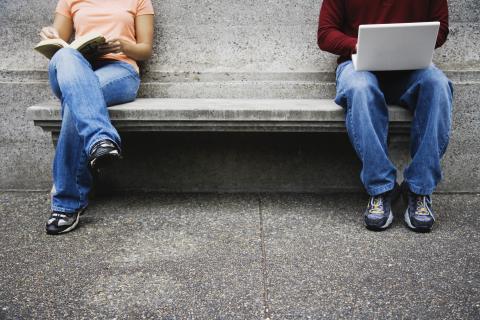 One in four young millennials (age 18-24) identify themselves as religiously unaffiliated—up from 11 percent in their childhood. But the distinguishing factor for this age group is that the "unaffiliated" label may stick with them into adulthood and beyond.
"This cohort is so dramatically different—racially, ethnically and religiously—it can't help but change the character of our country," Daniel Cox, director of research at Public Religion Research Institute, said at the presentation of the "Millennial Values Survey," conducted by PRRI and Georgetown University's Berkley Center for Religion, Peace and World Affairs.
In the past, young adults have tended to lapse in faith during their college years and twenties, only to return with age and family. Robert Jones, PRRI founder and CEO, said that's not likely to happen as much with this age group.
"We've got to come up with some new measures of religion," Jones said.
He said the religiously unaffiliated in the young millennial age group is more likely to think of God as a distant and remote religious force. They are less likely to see the need for the institution of religion—backing away from tradition, liturgy, brick-and-mortar churches—but still maintain a sense of faith.
As such, the traditional survey checkboxes of "Evangelical," "Catholic," "Mainline Protestant," no longer apply.
What is the cause for the shift?
Abigail Clauhs, a college sophomore and leader of the Interfaith Council at Boston University, said young millennials place greater emphasis on inclusion across all areas of diversity.
"One of the greatest challenges for our generation is to not only tolerate, but celebrate differences," Clauhs said.
Only 57 percent of young millennials self-identify as white, compared to 72 percent of the population. As stated, unaffiliated grabs the highest slice of religious diversity, followed by 20 percent Catholic, 12 percent White Evangelical, 12 percent White Mainline Protestant, about 10 percent each Black Protestant and Other Christian, and about 6 percent each non-Christian Religions and Other.
The wide swath of backgrounds, ethnicities, religious affiliation, etc., young millennials are seeking out community through their commonalities.
"[Our generation] has a complicated relationship with religion, but we know how we feel about people," Clauhs said.
Tom Banchoff, head of the Berkley Center, said this group of young adults is clearly different across all aspects—but more than that, they are "different in an enduring way."
Sandi Villarreal is Associate Web Editor for Sojourners. Follow her on Twitter @Sandi.