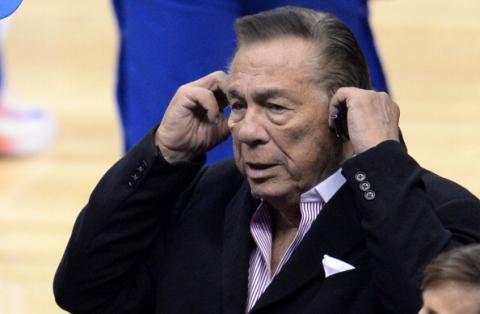 Donald Sterling, eccentric billionaire and owner – at least for the moment – of the Los Angeles Clippers basketball team, learned firsthand the weight of his own words on Tuesday. After allegedly being recorded making numerous racist remarks about African-Americans (both on his team and otherwise), the National Basketball Association handed him a lifetime suspension from association with his own team, along with a $2.5 million fine.
Though Sterling's comments were highly inflammatory and distasteful, the NBA's swift and severe consequences helps contain the damage, keeping the poison from infecting the league's reputation any more than it already has. And good riddance to such attitudes, as they should find no audience in any public forum, let alone in a sport where a majority of the players are black.
Sterling's consequence is not why I feel pity for him. He got what he deserved, and the stigma that goes with such shunning likely will weigh on his future business ventures. What saddens me for him is the sense I have of him as an individual, having read extensively about him online, and having listened to the audiotapes attributed to him.
All public data about Donald Sterling depict him as a man whose singular aspiration in life has been to gain wealth, only to find himself utterly isolated and alone upon achieving it. Those who tolerate his abrasive disposition seem to do so only with the expectation of something in return, be it monetary or some other self-serving interest.
Maybe I'm projecting a reality onto him that doesn't actually exist, but the Donald Sterling I see is a man who has tirelessly sought fulfillment in ways that have not yielded the return he desired. As such, he's tried to backfill that emptiness by subsidizing his relationships with exotic girlfriends two generations his junior and various other sycophants and hangers-on. But it all ends up feeling contrived and shallow because it is.
Perhaps his disdain for African-Americans is something cultural from his childhood. Maybe he resents that the players he pays to be a part of his team are adored, while he is relatively invisible to the limelight, save for when he commits social suicide. Or perhaps it's the byproduct of a soul in mourning for what might have been, yearning for a life that has always eluded him, despite his intensely misguided efforts.
Granted, one's own pain never justifies passing that pain on to others. There is never any virtue in spreading suffering around. And as I've said, he is paying for his misgivings, and will keep paying for some time. But beneath the money, the media hype, the glamour of owning a professional sports team and having beautiful women on your arm is a hopelessly lonely man who seems to be living into a narrative he carries around with him, everywhere he goes, that he is not worthy of basic human love.
Sadly, this experience will likely only solidify that worldview for him, though it does hold within it an opportunity for humble confession, for vulnerability, and for healing on all sides. But to do so would require Donald Sterling to admit that his lifelong pursuits have more or less been in vain, and I'm not sure he's strong enough to give himself what he truly wants.
Christian Piatt is a Sojourners Featured Writer and an author, editor, speaker, musician, and spoken word artist. He is director of church growth and development at First Christian Church in Portland, Ore. Christian is the creator and editor of Banned Questions About The Bible and Banned Questions About Jesus . His memoir on faith, family and parenting is called PREGMANCY: A Dad, a Little Dude and a Due Date.