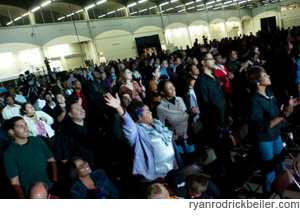 Residents of the Lone Star state are known as proud folk, but there are a few startling facts that should make everyone -- not just residents of the third-largest metropolitan area in the U.S. -- stop and think faster than you can say "Don't Mess With Texas." Despite abstinence-only education, a study released this fall found Dallas leads the nation in the number of teens repeatedly giving birth. Earlier this year, the U.S. Secretary of Education ranked Dallas's dropout rate 7th-highest in the nation, with fewer than half the students who begin their education in public schools earning high school diplomas. Perhaps most staggering, more than 20% of Dallas's homeless are children. Dallas is also a majority minority city, with more than 25% African-American and 35% Latino at last count (with the Latino population growing fastest).
So during Justice Revival's second night, Rev. Sam Rodriguez was in many ways an ideal representative to deliver an urgent multi-cultural sermon. A self-described "Hispanic Pentecostal on Starbucks," his fever-pitch keynote urging all to "touch God so God will heal the next generation" was delivered at the top of his lungs, though his frantic pace was slowed so each and every line could be translated live from the stage into Spanish.
Wednesdays are the toughest weeknight in Dallas to draw a crowd away from their home churches, and fewer people attended than on opening night. Nevertheless, those who turned out may better understand the challenges many Dallas-ites face in helping the next generation of their family study and stay in school, just as worshipers struggled to hear Rodriguez's rapid-fire message in the the echoing hall. This bilingual experience was a helpful crash course in sensitivity training for volunteers who seek to defy statistics about public education by developing relational ministry partnerships over the next year. However, the evening's traditional old school revival-style format with praise music by Fred Hammond, an offering, and an altar call to closing prayer didn't leave much time for conversation among the faithful to detail their action steps just yet.
In contrast to Rodriguez's message about weathering storms, a relatively still, small voice could be heard talking not primarily about his belief in Jesus Christ, but about his own self-confidence and faith adults will advocate on his behalf. Dallas public schools' dynamic 11-year-old spokesman Dalton Sherman cited Proverbs 22:6 (Train children to live the right way, and when they are old, they will not stray from it) and testified as a living, breathing "example of God's grace and faith." After Sherman acknowledged "I know my school and church family believe in me," he stepped out from behind the podium and energized the audience with the speech that made him a YouTube phenomenon last year. Sherman's words made clear his generation wants to be healed. Even seasoned Justice Revival community volunteers will be hard-pressed to match Sherman's enthusiasm in their educational outreach.

Dallas native Catherine Cuellar is a multimedia journalist and community activist. Find her at CatherineCuellar.com.
Got something to say about what you're reading? We value your feedback!