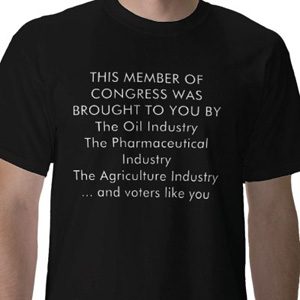 The midterm election season is upon us, the first since the Supreme Court's January 21 ruling that allows corporations to spend as much as they wish on political advertising -- as long as they disclose their involvement.
It seems to me that corporate disclosure isn't enough. I want an easy way to know who is buying my candidates, my member of Congress, my senators. Sure, I can go to the extremely informative Open Secrets website and find out for myself that, for example, Nancy Pelosi's number one contributor was American Income Life Insurance, while John Boehner's was the American Financial Group.
But after reading this morning how corporations are funding our elected representatives' favorite charities in mutual back-scratching deals, I think it's high time for a more direct approach to disclosure. Even the 27 percent of Americans who don't read books need to know who is buying their politicians.
So, I propose that we make good use of America's favorite communications medium: the T-shirt.
Let's require every person holding elected office, and every candidate for elected office, to wear a T-shirt at all times listing his or her top three contributing industries. T-shirts should be updated at least every three months.
It may be hard at first for Ms. Pelosi to give up her lovely designer suits, or for Mr. Boehner to abandon his dazzling white shirts and silk ties, but Zazzle offers a wide variety of styles for men and women. The Speaker will be able to choose flattering colors and necklines, and the Minority Leader can continue to wear stark white to highlight his tan.
It's good to know who's buying the ads, but it's even more important to know who's buying the candidates.

LaVonne Neff is an amateur theologian and cook; lover of language and travel; wife, mother, grandmother, godmother, dogmother; perpetual student, constant reader, and Christian contrarian. She blogs at Lively Dust and at The Neff Review.