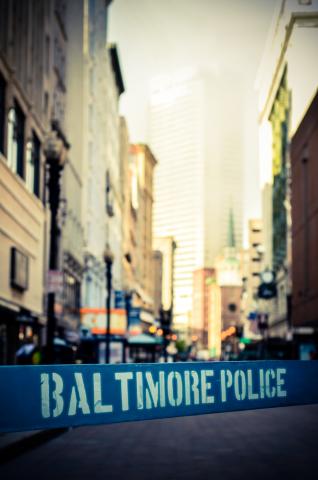 This April, the city of Baltimore faces two major events: the one-year anniversary of the death of Freddie Gray, which spurred the series of demonstrations known as Baltimore Uprising that reached their peak on April 25; and the city's mayoral primary election on April 26.
With a city in need of systemic change and serious healing for its people, and on the anniversary of a pivotal moment in Baltimore's identity, this mayoral race is more important than ever.
The death of 25-year-old Freddie Gray was a boiling point for a city where policing problems, inequality, and racism had fueled the fire for a long time. An op-ed in the Baltimore Sun described the uprising last year:
"You could see young people challenging police officers they knew well from confrontations in the neighborhood. Others, there and elsewhere during these protests, spoke out about entrenched poverty, lack of economic opportunity, corrupt politicians, substandard housing, ineffective schools, white supremacy and racism. It was clear to anyone present that a social movement was emerging."
Now, Baltimore seeks a new leader — and the stakes are high. Establishment candidates like former mayor Sheila Dixon and state representative Catherine Pugh face off against politically inexperienced outsiders like wealthy businessman — and one of the only white candidates in the majority-black city — David Warnock, and nationally known Black Lives Matter activist Deray McKesson.
I have followed this mayoral race very closely from Connecticut. I don't have geographic ties to Baltimore, but I care about the Baltimore Uprising. I care about black lives, fair police practices, and justice for all. I care about struggling cities. I live in Hartford, which has its share of violence and inequity along with more than its fair share of problems in local politics and schools. I have lived in Cleveland, a Rust Belt city with a history of segregation, institutionalized racism, and police violence. Like people know about Freddie Gray, people know about Cleveland's Tamir Rice — a 12-year-old black boy who was shot while holding a toy gun.
In Ohio, Cuyahoga County prosecutor Timothy McGinty, held responsible for the lack of grand jury indictment for Tamir's shooter, was recently unseated in an election. During my time as an attorney for the adjacent city of Cleveland Heights, Timothy McGinty was Judge McGinty, who was considered tough on crime and a friend to the police force. In my work I saw some issues of race and police conduct up close. Thankfully these altercations don't always end in death. However, when I became pregnant with my first child, my husband and I weren't willing to risk raising her there. I saw the writing on the wall, and it said Tamir, Trayvon, and Freddie.
As a black person who has lived and worked in struggling cities like these for most of my adult life, I know that the stakes are high in Baltimore. As a black mom, I will have to teach my child what to do if stopped by the police, even though I have no fear that she will ever commit a crime. As the wife of a black man, I wonder if he will be hassled by the police for shoveling our driveway. As a parent who chose to move to the city to give our child the opportunity to have peers who look like her, I know that I am blessed with choices and resources. For those who lack choices and resources, effective leadership is even more crucial.
I am Hartford. I am Cleveland. And because of that I am Baltimore.
Almost a year ago, the people in Baltimore said "no more" and refused to be ignored. Now that the political process gives them a chance to use their voices, I hope that they win the mayor they deserve. I sit and watch in solidarity, with hope that Baltimore will one day be known for rising up into a city where all of its people have a chance to thrive.