Not many people traveling in southern Africa consider Venda in the northern Limpopo Province a worthy touristic or project partnership visit. For years visitors to the South African Development Community have seen this more isolated, beautiful mountainous area of northern South Africa as a shortcut to Kruger National Park or to/from Pretoria and Johannesburg en route to the wonders of the 1,000-year-old Great Zimbabwe ruin or majestic Victoria Falls.
Perhaps a quick stop was worthy on the Musina-Beitbridge border to photograph the "great, green, greasy Limpopo River" made famous by Rudyard Kipling's "How The Elephant Got His Trunk." Not much else would interrupt the dash on the N1, similar to America's own Route 1 from Canada to Florida.
Big mistake! As I found out when saying ill-advisedly to our travelling companions that "there really is nothing to see or stop for in the area … and we do have an important dinner appointment in Pretoria." The twofold result was a serious late night "domestic" with my more adventurous and intuitive wife, Karen, and secondly, a necessary, more open-minded review of the unexplored albeit minimalist pages on the Venda Region section of the Rough Guide and Lonely Planet guidebooks. Alas the travel guides seemed to have the same misperception as my 30-year-old wisdom.
So our great discovery was Madi a Thava Mountain Lodge and The Dancing Fish Gallery "Fair Trade Certified" guesthouse, ethnic craft museum, and sustainable development project on a former polluted commercial farm in a glorious conservancy setting — only 10 kilometers (6 miles) from the Afrikaans town of Louis Trichardt (newly renamed Makhado) and so a mere 75 "Ks" from the Zimbabwe border. It was definitely a welcome discovery and mind-changer after a long day's drive and stressful border formalities.
The Dancing Fish (recognized Christian iconography is correct!) is now almost always fully booked with international travellers who have gotten the word! Check out the informative website. Venda is worth a trip if you are planning an escape next winter and want to have a broadened vision of post-Mandela South Africa's more promising initiatives throughout the country despite the xenophobic-challenged democracy!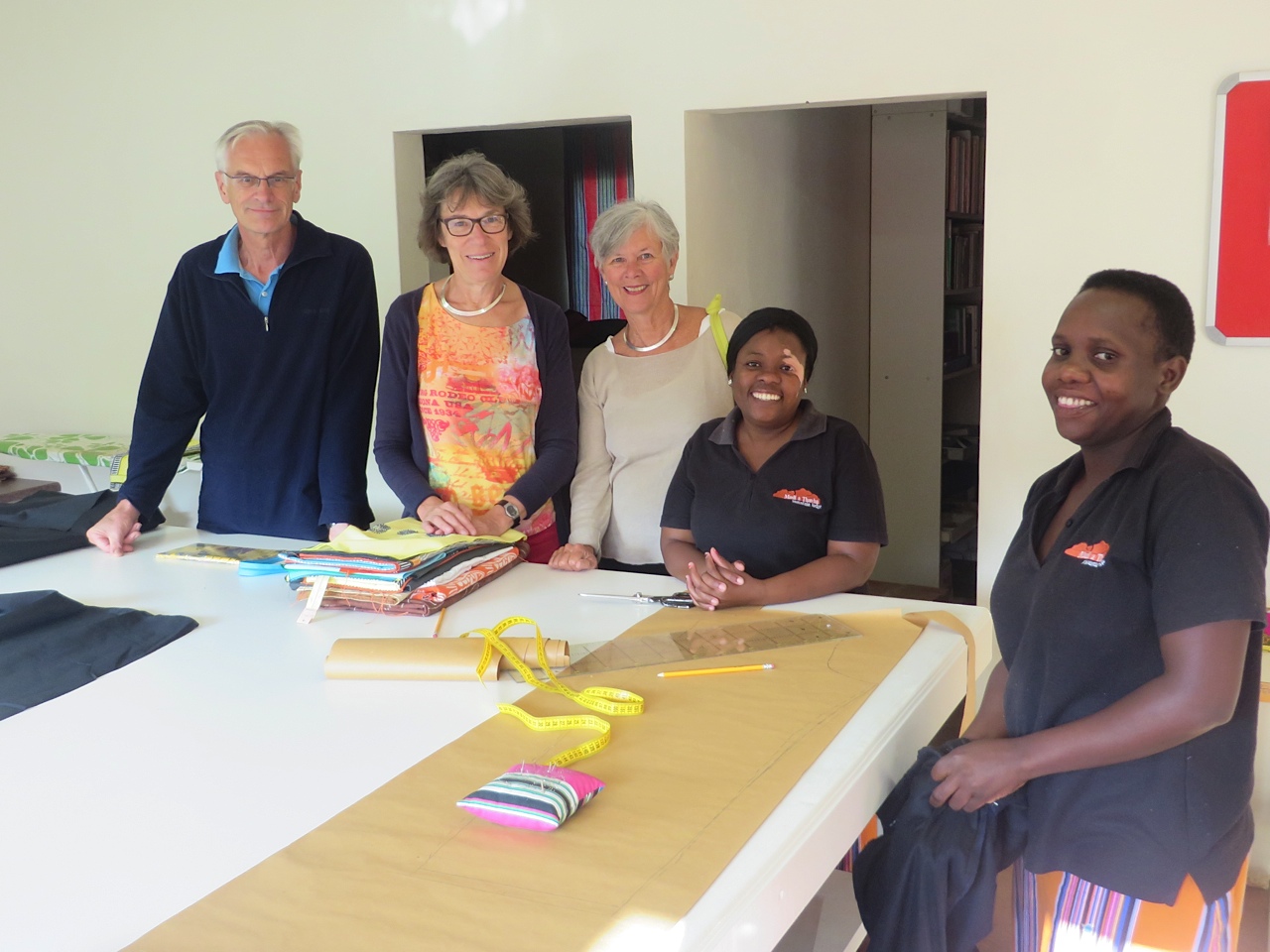 Dutch founder-owners, and former Scouting executives, Marcelle Bosch and Aart van Soest, with the help of 18 formerly unskilled local laborers have created an eco-friendly "little bit of heaven" on the worn down farm. It is a spiritually and physically rejuvenating place on this troubled earth. It is a vibrant, hopeful model of what is possible. One former field hand is now the housekeeping manager and director of the hospitality crew, a street person a gifted painter, two lively women glorious creators of traditionally decorated cloth, two other men knowledgeable cultural craft guides, and another a prize-winning chef and opera singer.
Tellingly the two seamstresses are named Ndivhuwo ("Thanks") and Ndifelani ("What is our Dying for?"). Their photo is with the visionary owners and my wife. Aart and Marcelles' prayer of hope is that the enterprise will continue on with the right owner after they retire. We are joining them in intercessions that the local community and co-workers, as well as investors, will find a way to perpetuate this amazing wholistic model, one more metaphorical pebble in a very large culturally diverse pond.
For now 60 artisans in rural villages are recreating and transforming the most beautiful traditional crafts, the sale of which support their previously impoverished and hopeless families. One wood carver's message in his sculptures warns of HIV/AIDs.
Visiting The Lodge and The Dancing Fish Gallery resulted in some mutual encouragement and furthers the cause of cultural and ethnic healing in a beautiful but needy place. The experience also provided insight into challenges in our home countries.
And the one South African universally recognized Zulu word we needed is sawbona … a greeting in place of hello, which means appropriately "I see you"… and am willing to engage deeply.
Tom Getman and his spouse Karen have traveled frequently over the last 30 years in South Africa. He serves on the boards of Sojourners.
Got something to say about what you're reading? We value your feedback!