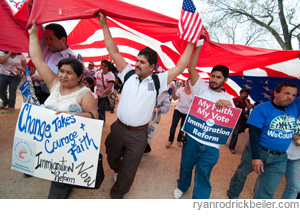 I know that there are many of you that are engaging, debating, learning, and wrestling with the issue known to most as immigration reform or known to others as, "What the Arizona?" And these debates and discussion will continue with more and more incidents like this one.
One thing that is clear to me is that no matter where you might "stand" on the issue, silence should not be an option but from my view (and I can be wrong), the church -- especially evangelical Christian churches and its leaders -- have been mostly silent. While I know that many are still "waiting" to receive & research more details and "praying" about how to respond, don't just pray and wait -- and remain silent.
But what are your thoughts:
How are YOU engaging and wrestling with this issue?
What are your thoughts about the AZ Immigration Law SB 1070?
Does Governor Brewer's changes to the original law make a difference?
Here are some of my thoughts:
It's nonsensical to throw out terms like "racist" or "racism." It doesn't help the dialogue. Let's not demonize and vilify one another.
No one in their right mind is advocating for open borders.
For goodness sake, do not criminalize acts of mercy and compassion.
Governor Brewer: "These new amendments make it crystal clear and undeniable that racial profiling is illegal and will not be tolerated in Arizona."
Got something to say about what you're reading? We value your feedback!