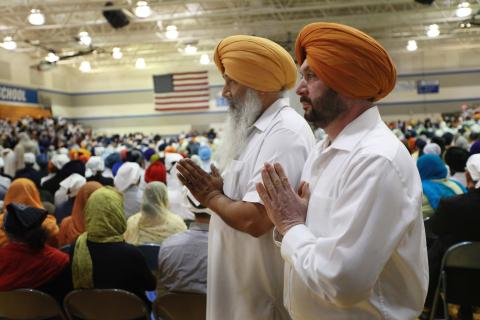 We Are One
8-5-2012
These are words posted below the one bullet mark left to remember the senseless loss of so many lives.
This is what it took for a nation to pay attention to a little known religious minority in its midst. It is a minority that believes to its core that they are American, but their faith makes them stand out, and political rhetoric has cast them as "Other."
I know deep in the recesses of my heart that the Sikh community has been preparing for something horrific since 9/11. It was just a matter of time.
On Sunday I was at the Oak Creek, Wis., gurudwara (Sikh place of worship). I was there with my family to show support and to pray with my community. I brought my daughters, Jind Kaur (4), and Sahib Kaur (7). Sahib was afraid to be here. She couldn't grasp how it could happen at Gurudwara, a place she goes to every Sunday. She said before we left, "Will we see the bodies?" My husband and I reassured her that she need not be afraid. We were going to Gurudwara — a place that she should never be afraid to go.
The Gurudwara had its first Sunday services exactly a week after a gunman opened fire killing six innocent people before killing himself. Three others are still in the hospital in critical condition. Sunday's prayer was a testament to my community's resilience and its collective will to carry on. The Sikhs are used to adversity.
In the aftermath of 9/11 so many South Asian and Middle Eastern community groups reached out to law enforcement and local governments to tell them who they are. The message was simple. We are not the terrorists. We are here and believe in the American dream. It was a plea on their part to make sure their families were safe and not targeted or profiled in an atmosphere of severe anger, mistrust, and a political scenario that demanded action and in its midst created an "other" that matched the look of all of those groups. It was a time when the American flag was used by so many as a sign saying, "I'm American; I am one of you."
In the height of the hysteria, fear, and known hate crimes, the Chicago Police Department was at the forefront of making sure it's police force was able to handle any issues that arose in the minority communities in its city. The police chief was involved; the community was involved — we were all trying to be heard. And we in the Chicago metropolitan area were afraid of such possibilities. The police department reached out particularly to Muslims and Sikhs to make sure they knew how to respond respectfully should they be called to a situation in either community.
All this preparation was ages ago. Here in Chicagoland, we have been blessed. While I'm sure hatred and bigotry exist here, it has not been actualized as it has in so many other places. No one has senselessly been beaten as often happens in New York. No one was shot down outside their place of work like Balbir Singh Sodhi in Arizona — the first person murdered in a hate crime in the immediate aftermath of 9/11. No one has been gunned down taking a walk out in their neighborhood as in California. We have been so fortunate to not have to experience this violence. But Oak Creek is not so far away. It is a suburb of a major U.S. city like any other.
It was in 2001 that the Sikhs realized it was time to have a voice to advocate for them. A new group of first-, second-, and even third-generation Sikhs, who believed they are a part of the American fabric began organizing to create a voice for their little-known community.
August 5 validated that work which started more than 10 years ago. Among these organizations there are the United Sikhs, Sikh Coalition, and Sikh American Legal Defense and Education Fund (SALDEF). We even now have the voice of Valerie Kaur, program director of Groundswell a multi-faith organization that "echoes and amplifies that call for justice welling up among the secular, the seeking, and people of faith."
It was time to tell everyone who we are. Everyone was listening. This time we didn't have to explain we are not the Taliban. This time we could give a complete account of our American story, while explaining our beliefs and traditions. Within the first 24 hours of the shooting, more information regarding the Sikhs flooded all media sources than had been covered over the past 10 years. It took this shooting and the immediate response of President Barack Obama for America to be interested and to learn about who the Sikhs are.
The day of the shooting, I was blissfully driving with my two young daughters and my nephew to a Sikh youth camp in Indiana. When we arrived, there was something amiss. Everyone was on their phones, looking distraught, and captivated by whatever they were watching. I looked around and the first person who caught my eyes looked up at me said, there's been a shooting in Wisconsin. I moved closer to see what they were talking about. After the shootings in Aurora, Colo., I was prepared for the worst. But when I was told it was at a gurudwara, I knew the world had shifted for me and my community. What the shift would be I wasn't sure.
My first reactions were to call my family and then the friends I knew in Wisconsin. Thankfully they were safe. But how do I get through a weeklong Sikh youth camp out in a faraway place when all I wanted to do was be there in Oak Creek to help, to heal, to understand.
My 7-year-old daughter could read my face. I turned to her and told her the truth. Her question like everyone else was "why?" My simple but only answer was that some people have a lot of hate, and this is what hatred makes people do. I know that Wade Michael Page is not representative of all of America. I don't know his motivations. But why else would someone go into a house of worship to kill those in prayer? It was committed in a place that my family and I might have gone to on a Sunday morning to sing the praises of God.
I patiently waited for this ever-so-long week to end. I taught my classes as I have done for the past eight years. I decided to change up my lesson plans with my older campers to talk about what happened. No one had anything to say. But they were not surprised. I could tell there was sadness, sympathy, and even a bit of anger. But there was no sense of surprise. I ended up focusing our discussion on the Sikh concept of Chardi Kala (maintaining high spirits in the face of all odds). This they could grasp and focus on. They knew the collective response of the community would have to be one of Chardi Kala. They were prepared to make themselves focus on this either through prayer, selfless service (Seva) or through more activism.
During those first 24 hours my closest friends called, texted, and emailed to make sure I was OK. They were aware that it could be me. They knew I was out of town but still needed the reassurance of my voice or response to know that I was OK. When I returned I had an email from one of my closest friends. She had written an article for a Jewish newspaper on these events. She put into words what I had been thinking:
"Perhaps it was the exoticness of the victims. At times, it can seem that people who stick out – who look different from the mainstream – are almost judged by different rules. Just after the attack, in fact, some Sikhs explained they were targeted because they look Muslim – as if that would somehow excuse a bloody massacre in a house of worship. Other commentators rushed to explain who Sikhs were, as if demystifying them would make them seem more human, would somehow get more people to care."
Even I had wondered about the overall response. In Oak Creek, yes there was an outpouring of sympathy. In the media it was 24-hour Sikhi 101. But overall there seemed to be little dialogue across the nation — a dialogue that was not just about education but also empathy.
I received emails and texts from many people, but then there were many more that were silent. Maybe we as Americans are weary and desensitized to violence. Or maybe it was so soon after the Colorado shootings it was hard to be surprised that there was another senseless shooting. I'm not sure. But when I read my friends words I realized she too felt what I was feeling. It all may have been in the news. But no one really wanted to talk about it.
This moment we had prepared for more than 10 years ago now came to pass. It came suddenly and has forever shifted the Sikh reality in America.
There are tears, because this should happen to no one. But there is also a knowing that until our political rhetoric becomes more civil and issues such as gun control are discussed without lobbying that this might and very well will happen again to some community anywhere in our fine land.
I'm not sure exactly what I feel. I am still numb. I only have a strong realization that more needs to be done to make sure America realizes that Sikhs are also part of the American fabric. We live in every city. We are doctors, lawyers, taxi drivers, business people, and teachers.
We are here because of the American dream. America is the place of great opportunity, a place to earn an honest living, and a place where one can practice one's faith freely. But maybe this shooting is the cost of that American dream.
Harvind Kaur Singh is a practicing Sikh living in the Chicagoland area. She is active in her community and works with the Institute for Conflict and Peace Studies. She is a published author and Emmy nominated producer. In her day job she works as Vice President of Operations and Business Development in the engineering industry.