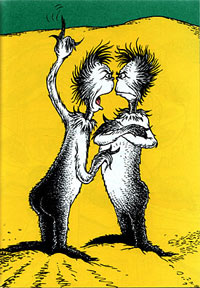 ...I pledged to stay away from this site for a couple of weeks to see if the discussion could possibly turn more civil and not be dominated by one person. Since I had a half hour to kill before leaving for the evening, I broke my pledge (weakness on my part) and checked the most recent blog on sojo.net just to see if anything at all had changed. Regretably, if this one blog is any indication, it's only gotten worse. When will I learn??? If I make another comment before February 20th, please have the moderator ban me for life!
Your cries for blog comment justice have reached our ears. Actually, our team of moderators are intimately aware of the problem with commenters that habitually violate the rules of conduct. But we also appreciate your grace as we try to digest your many comments and apply the rules fairly with limited time and competing projects. (We are a nonprofit, after all.) Ultimately, we'd like to move toward a peer moderation model, but it will be some time before we have the technical solutions in place to make that possible. Know also that some comments are suspended due to automatic filters that use complex criteria and keywords that may snag "innocent" posts. We have been working through a series of logistical and technical challenges to make good on the promise we made in December to begin blocking users who are disruptive. We agree with this comment:



if the guidelines mean anything at all, action should certainly be taken.
So, the message below was sent out to 11 frequent commenters on our blog. We would have liked to have included a personalized message to each of them that included a compilation of their comments that warranted it, but we just don't have the resources for that kind of hand-holding at this point. Some of our sharpest critics and staunchest supporters got this warning. We hope they all take it as an admonishment to remain active members of our online community, but by expressing their views in accordance with our rules of conduct and simple good faith respect for others in the conversation.

----------



You are receiving this message because in recent weeks a significant number of your comments on the God's Politics Blog have been removed for violating the Beliefnet rules of conduct. Common rules that are violated include:







You agree that you will be courteous to every Beliefnet member, even those whose beliefs you think are false or objectionable. When debating, express your opinion about a person's ideas, not about them personally.




Disruptive behavior may include creating a disproportionate number of posts or discussions to disrupt conversation ... making statements that are deliberately inflammatory ... or any behavior that interferes with conversations or inhibits the ability of others to use and enjoy this website for its intended purposes.




As announced on the blog late last year, we are taking the step of permanently blocking commenters who habitually violate the rules of conduct for our blog. Please click here to re-read that post if you're unfamiliar with our rationale for this step. We do our best to apply these guidelines without bias to the views expressed, but according to the manner in which they are expressed. Commenters of varying political views are receiving this warning, including those who are sympathetic to Sojourners but have expressed their views in ways that violate the rules of conduct.




Consider this your final warning. If you continue to violate the rules of conduct, you will be permanently blocked from posting comments on the God's Politics Blog. We prefer that you remain part of our online discussion community, but ask that you express your views in ways that respect others and their views, and make appropriate use of our site.

As we've previously stated, we feel as though we've opened our "house" to you all for some vigorous conversation. We expect strong views to be expressed. But like any good host, we will ask a rude guest to leave if they are being abusive. This is common practice on other blogs and a far milder solution than some who have shut down comments altogether and only respond to hand-picked comments via e-mail - an option we'd rather not take.




Sincerely,




The God's Politics Comment Moderation Team
Aaron, Abayea, Adam, Andrew, Anna, Kaitlin, Mary Beth, Michael, Robin, and Ryan