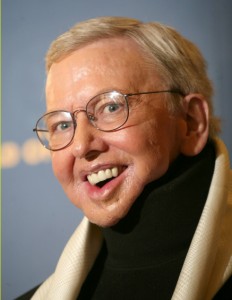 "The conditions of my life are precarious," film critic Roger Ebert wrote last week in a posting on his online journal titled, "Fall from Grace."
Ebert, 69, perhaps the pre-eminent film critic in the United States and a longtime colleague of mine at the Chicago Sun-Times newspaper, where he's been a staff writer since 1966, has rather famously been battling a series of health crises in recent years.
Diagnosed with thyroid cancer in 2002, Ebert has since battled cancer in his salivary gland and jaw bone, undergoing grueling treatments and numerous surgeries. While today he is, blessedly, cancer-free, he can no longer speak or eat and wears a prosthetic chin for his appearances on his television program, "Ebert Presents: At the Movies."
While his body may be weaker and his audible voice gone (but for the nifty text-to-voice computer he uses, named "Alex," to vocalize his thoughts now), as trite as it may sound, Ebert's spirit is as vibrant, alive and engaged as ever.
In that blog post earlier this month about a nasty fall he took reaching for a book that had dropped to the floor next to his bed late one night, Ebert, as he so often does, spoke honestly, with great wit, from the heart.
"I have arrived at a balancing point between sickness and health, and it is the bargain I live with. I don't take chances," he wrote. "(Doctor) Havey gave me some pain med. Nothing addictive, I insisted. It helped a little. He said the pain could last as long as six weeks, but it now seems to be subsiding. It is the pain to my peace of mind that continues."
The fall, he said, cast him into a depression, faced with the realization that he has been "having a daily reprieve from greater disability."
"I was walking on a narrow path with a chasm on either side," he wrote. "I returned to reviewing movies, which as always freed me from myself and occupied my mind.