Have you burned out on fiscal cliff debate yet? Depressed that our Congress has still failed to renew the incredibly noncontroversial Violence Against Women Act? Well, while Sojourners cares deeply about both of the issues, we're also very ready to celebrate this season of Advent, our Savior's birth, and all of the family time and Christmas cookies that come with it.
So here it is: The Top 5 Ways to Get Into the Christmas Spirit.
1. What Are You Singing?


You lend your voice to them all Advent long in your church pews. Maybe you even take it up a notch and go out wassailing with friends. But how much have you really looked at the words of your favorite Christmas carols. Check out our blog series to get the skinny on the hymns of peace, justice, and yes, creation care.
2. Be Kind, Rewind: 10 Best Spiritual TV Series to Gift This Christmas
This Christmas, for the spirituality-and-pop-culture enthusiasts on your gifting list, consider the following: Be kind and rewind. Give them the gift that keeps on giving ... long after the series has been cancelled.
3. WAR ON CHRISTMAS!!!
Except, like, not really, right? While Fox News pundits love to resurrect the fight every year — and Jon Stewart loves to make fun of them for it — as Christians, we know the kingdom of our God is not dependent on government-funded nativity scenes. And as you trip over tinsel on the way to feed Christmas-based consumerism, check out these thoughtful pieces.
4. Advent Reflections



Advent is a season of waiting. We await the coming of our Savior, who changes everything. Check out these beautiful advent reflections from Sojourners' handy host of pastors, and our very own Lisa Sharon Harper and Rev. Beau Underwood. Take a break from the craziness of the season to reflect and rejoice.
5. Christmas Music That Isn't Horrible
Does that Amy Grant tape from 1983 still work? (And where did you find a cassette deck?) I love "Breath of Heaven" as much as the next person, but it's time for an update, y'all. Check out Brandon Hook's review of the best Christmas music of 2012.
BONUS CHEER: Sojourners Magazine comes year-round.
Gift one for Christmas, and get a free subscription for yourself! (limited time offer)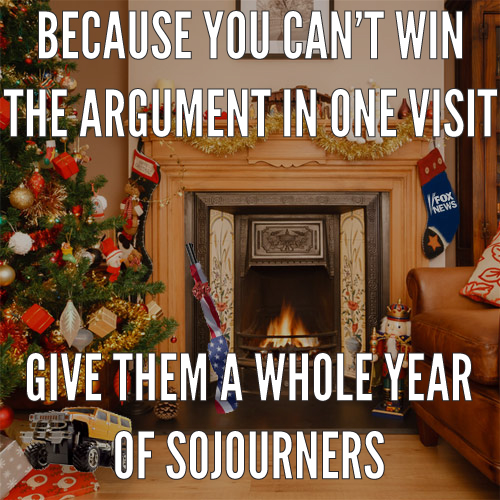 Sandi Villarreal is Web Editor at Sojourners. You can follow her on Twitter @Sandi.
Photo: Christmas lights: © Jorge Salcedo | View Portfolio / Shutterstock.com
Got something to say about what you're reading? We value your feedback!