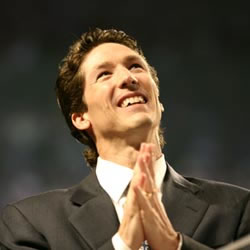 Last weekend my wife Amy and I were in Baltimore and attended Joel Osteen's event. Joel pastors the largest church in America with more than 38,000 people, and his latest book has already hit number one on many bestseller lists. Joel is selling out stadiums across the country preaching a gospel of healing, victory, promotion, and increase to people filled with sickness, defeat, depression, and debt.
Unlike some people, I do not think that Joel Osteen is a heretic. While I do believe that he needs a deeper theology of suffering, he is not like most prosperity preachers that completely undermine Jesus' teaching. Joel's teaching may only be an inch deep, but he certainly reaches a lot of people with words of hope.
The crowd went wild when Joel stepped on stage. He kept the crowd engaged throughout the evening with his message about the power of positive thinking. "We are to be victors, not victims," he said repeatedly. His mother shared a testimony of being healed from liver cancer 26 years ago. Joel shared his testimony of how he served at his father's church for 17 years in video production before responding to the call to preach. It was a story people could relate to because many have sensed God's calling on their lives, but have either run from that call or felt inadequate for the task at hand.
I went into this gathering as a critic of TV evangelists and superficial gospel messages. I could list a number of things I find problematic about the Joel's ministry, but rather than just criticize a brother, I thought I would focus on how we as a Christian social justice movement can learn from him:


The power of personal testimony: Joel shared about how he avoided the pulpit for so long and had only preached one sermon before he inherited his dad's church. We would do well to be more active in sharing our motivations for doing social justice ministry.

The importance of engaging hearts and not just minds: Joel was not afraid to cry when speaking about his father's death. Too many in the social justice movement have a strong intellectual understanding of Christ, but lack the passion or personal vulnerability to fuel the mission of God's justice for the poor.

The importance of racial and socioeconomic diversity: Joel's event had more poor people and racial diversity than most churches or even social justice gatherings I have experienced. This is likely a result of not just his broad appeal but his vast reach through television.
The challenge before Joel Osteen, as well as us in the social justice movement, is similar. We are called not just to be spectators, but active participants in God's mission in this world. The temptation is just to sit back and watch TV or intellectualize about social justice. The challenge is to go beyond mere observation to active participation in order to begin sacrificing our time and resources in response to the gospel so that we can change the direction of our country and world.
Aaron Graham is the national field organizer for Sojourners.
Send Us a Note
Got something to say about what you're reading? We value your feedback!