Craig Stephen Hicks, a 46-year-old white male, has been charged with three counts of first degree murder, according to a Chapel Hill Police Release. After shooting the three students in the head early Tuesday evening, Hicks turned himself in at a local police department in Pittsboro. The victims included a married couple – Deah Barakat, 23, and Yusor Mohammad, 21 – and their sister, Mohammad Abu-Salha, 19.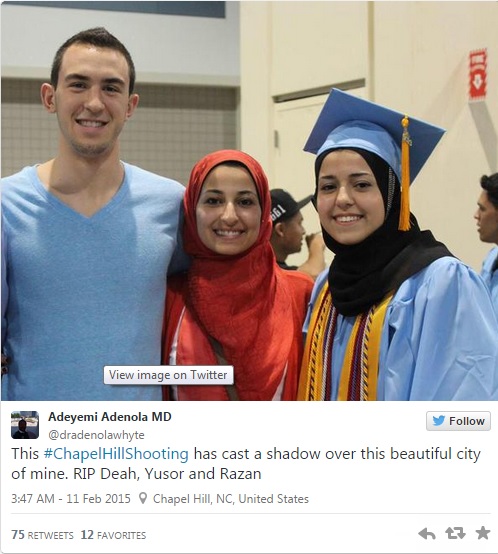 Photo via Washington Post
All three were currently attending or planning to attend schools in Chapel Hill. Although reports of previous of a conflict between the shooter and the victims are not confirmed, many have speculated religious bias played a significant role in the crime. The Washington Post reports:
The Council on American Islamic Relations issued a statement on the killings later Wednesday morning, calling for the Chapel Hill Police Department to address the speculation about Hicks' motive.

"Based on the brutal nature of this crime, the past anti-religion statements of the alleged perpetrator, the religious attire of two of the victims, and the rising anti-Muslim rhetoric in American society, we urge state and federal law enforcement authorities to quickly address speculation of a possible bias motive in this case," said CAIR National Executive Director Nihad Awad …

Hicks, the alleged shooter, frequently shared links about atheism on what appears to be his Facebook page. One such post reads: "People say nothing can solve the Middle East problem, not mediation, not arms, not financial aid. I say there is something. Atheism."
Many have taken to Twitter with the trending hashtag #MuslimLivesMatter to show their support for other Muslims and to fill in a perceived lack of media coverage.
Please join us in prayer with and for our Muslim neighbors.
Got something to say about what you're reading? We value your feedback!