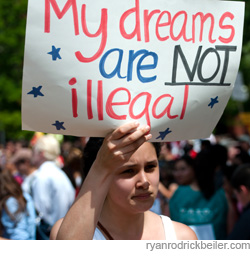 On May 17, the anniversary of the Brown vs. Board of Education decision, four college students challenged the nation when they sat down in an act of civil disobedience outside Senator John McCain's office in Tuscon. The four students, Lizbeth Mateo of Los Angeles; Tania Unzueta of Chicago; Mohammad Abdollahi of Ann Arbor; and Yahaira Carrillo of Kansas City, were detained by law enforcement. These youth hoped to highlight the urgency of legislative action in Congress, and mobilize a movement to pass the DREAM Act before June 15th of this year.
All four students are leaders in their own communities and have dedicated years to work for immigrant rights, legalization for undocumented immigrants, and the DREAM Act.
"Dr. King spoke of a dream of equality overcoming fear. Well, the fierce urgency of our dreams has overcome any kind of fear we may have had before. We can't wait," concluded Yahaira, 25, a founder of the Kansas Missouri Dream Alliance.
The criminal court proceeding stated that Mohammad Abdollahi, Lizbeth Mateo, and Yahaira Carrillo would not be referred to immigration authorities. However, Immigration and Customs Enforcement went ahead on its own and took them into custody. They have since been released and have a court date pending on June 16.
These students represent about one million undocumented immigrant youth who have been waiting for the DREAM Act. This bill grants a path to citizenship for youth who arrived in the United States before the age of 16. They must prove residency, good behavior, and the attainment of at least a two-year university degree or a two-year commitment to the armed forces.
Obama highlighted the DREAM Act during his presidential campaign as part of the solution for fixing our broken immigration system. Now the president and both parties are stalling on immigration. But the movement is growing and the urgent call to action is being lead by those who are most affected by congressional inaction.
"We've surpassed the days of sitting idly by while others make decisions for us, while others tell us to wait," says Yahaira. " We cannot wait. Waiting is no longer a option. The DREAM Act must pass and it must pass now."
According to Tania,"If our three friends can face the ultimate fear of deportation to show their commitment to passing DREAM, our community and leaders must ask themselves what they are willing to do."
What are you willing to do?
Jamie Johnson coordinates an academic outreach program for low-income and minority youth at California State University Long Beach. Jamie is a member of the Orange County Dream Team, a student immigrant rights organization supporting youth and their access to higher education.
Ask the U.S. Senate to pass national immigration reform this year.
Send Us a Note
Got something to say about what you're reading? We value your feedback!