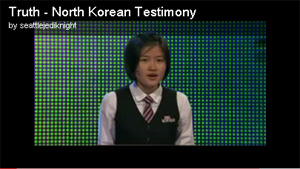 You need to watch this. In fact, you must watch this. Please watch this.
While I wasn't personally able to attend the Lausanne Congress on World Evangelization in Capetown, South Africa, I tried to catch some of the events via the Web. While there were numerous webcasts, the one that caught my attention was the testimony of a young 18-year-old Korean girl. I believe that her name was intentionally not released. She was born in North Korea, lived in China, and now resides in South Korea.
I want you -- in fact, I urge you -- to give 10 minutes of your time: 8.41 minutes to watch the video and the remainder, 1.19 minutes, to lift a prayer for the people of North Korea -- a country that has been in the news a lot lately.
Here's the video:
If you watch the video, you'll get a glimpse of her story, but I wanted to share her closing remarks:
I look back over my short life and see God's hand everywhere. Six years in North Korea, 11 years in China, and a time of being in South Korea. Everything that I experienced and love, I want to give it all to God and use my life for his kingdom. I hope to honor my father and bring glory to my heavenly father by serving God with my whole heart.

I believe God's heart cries out for the lost people of North Korea. I humbly ask you, my brothers and sisters, to have the same heart of God. Please pray that the same light of God's grace and mercy that reached my father and my mother and now me will one day come down upon the people of North Korea
Got something to say about what you're reading? We value your feedback!