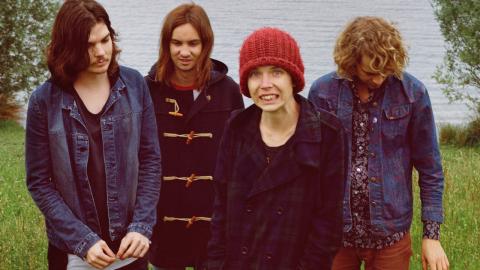 When I first listened to Tame Impala, I was almost convinced they were the late-60s Beatles reincarnated. Lead singer Kevin Parker's nasally yet gentle voice sounds about as John Lennon as you're gonna get.
But Parker makes it work. And Tame Impala, under his leadership, sounds fresh in a world saturated with music. Critics agree that Tame Impala manage to fuse classic psychedelic rock and blues with jazzier and more modern music. And that seems pretty accurate. Ezra Pound urged his modern contemporaries to "make it new" in regard to poetry, and even though Parker's project may not be entirely or dramatically new, it is innovative.
Tame Impala stopped by D.C. a week or so ago and treated a sold out crowd at the 9:30 Club to some jams. All four of the musicians are quality players, and Parker's use of guitar effects left me with a dropped jaw. And the psychedelic backdrop only enhanced the sensory heavy experience. (No, there weren't any illegal drugs in the premises.)
Standouts included crowd favorite "Elephant," during which the band slowed down and almost seemed to do another sound check for a few minutes before the drummer brought things back together and they finished abruptly. I was confused, but then I couldn't stop thinking about how awesome that little move was for the rest of the night.
Their more poppy song, "It Feels Like I Only Go Backwards," was also a big hit. Check it out below and be sure to check out more Tame Impala.
Over and out.
Brandon Hook is the Online Assistant at Sojourners.