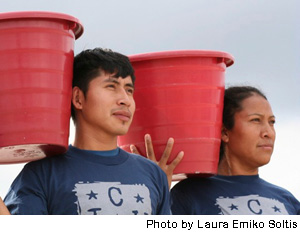 Will you be giving up chocolate for Lent? Coffee? Then why not fast for justice? Why not abstain from shopping at grocery stores that scoff at the notion of Fair Trade for farmworkers here at home?
In December, a spokesman for Publix, one of the nation's largest supermarkets, was asked about possible human rights violations in its supply chain. He responded, "If there are some atrocities going on, it's not our business."
Unfortunately, Publix's position is emblematic of the stance of many of our nation's supermarkets, despite a horrific number of actual slavery cases in Florida agriculture (nine federally prosecuted forced labor operations since 1997).
In the parable of the Good Samaritan, the priest and the Levite also did not think the abused were any of their business, but we know otherwise. In solidarity with the Coalition of Immokalee Workers, an internationally recognized farmworker organization based in Florida, we have an unprecedented opportunity to transform agricultural labor relations today and to cultivate a more humane farm labor system tomorrow. Conscientious Christians have joined the CIW as part of a sacred and powerful alliance also made up of students, tomato growers, and nine multinational fast-food and food-service corporations.
The CIW seeks a penny-per-pound wage increase (which, with full participation from tomato retailers such as the supermarket industry, stands to raise poverty-level wages by 64 percent), a strict code of conduct, a cooperative complaint resolution system, a participatory health and safety program, and a worker-to-worker education process.
Momentum is coalescing behind this solution. In November, the CIW and the Florida Tomato Growers Exchange (FTGE) signed an agreement to extend these Fair Food principles to over 90 percent of Florida's tomato fields. And though enactment of that accord is being phased in gradually over the course of this season and the next, numerous concrete changes have already taken root on some of the state's largest farms.
For the first time ever, many farmworkers now have a mechanism to report sexual harassment, withheld pay, child labor, violence, and other violations of the code of conduct. Farmworkers are also ensured proper payment for hours worked. Furthermore, many workers are now receiving an extra penny-per-pound for every tomato bought by participating fast-food and food-service retailers -- companies like Taco Bell, McDonalds, and Subway as well as Aramark, Sodexo, and Compass Group -- their first real wage increase since 1978. The pay hike and new rights help move tomato pickers away from the vulnerability of destitute poverty and powerlessness, and instead towards dignity and security.
Still, supermarket industry leaders -- with the notable and sole exception of Whole Foods -- refuse to adopt these Fair Food principles. Without supermarkets paying into the penny-per-pound program and conditioning its purchases on the Fair Food principles, workers' raises are shorted and efforts to improve work conditions are undermined.
If grocers like Publix, Trader Joe's, Stop & Shop, and Giant -- all of whom have rebuffed the CIW's invitation to support the Fair Food efforts -- have their way, the unprecedented farm labor transformation promised by the CIW's landmark pact with the Florida tomato industry would be dramatically diminished.
The CIW is not yet calling for a boycott of these supermarkets, but rather that consumers lift up their voices to demand more humane labor standards of these grocer's tomato suppliers. Accordingly, we asked their blessing for our Lenten fast for justice, which they granted.
During Lent please join us and abstain from shopping at the supermarkets that have rejected CIW's invitation to help create a more just industry