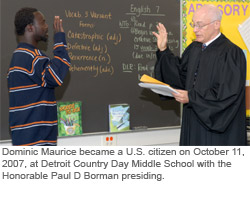 Virginia Mitchell and Charlton Breen of the Michigan Darfur Coalition (MDC) recently sat down for an interview with Dominic Maurice. Maurice is a former "Lost Boy" refugee from Sudan who has become a U.S. citizen and resides in Michigan. Last week, Maurice's friend, Lopez Lomong, was selected by Team USA to carry the American flag at the Olympic parade of nations in Beijing.
Charlton Breen: I understand your journey to the United States was a long and improbable one. Can you describe it?
Dominic Maurice: I was born in the village of Chukueum in Southern Sudan. Chukueum was a beautiful village surrounded by mountains. Our family lived on a farm. My father was a teacher, while my mother stayed home to tend to our house and the children. I had started school myself, but everything changed when I was only nine years old.
The war started and the government mandated that all boys from our tribe be killed. So, 50 kids from our town left on foot. Several mothers came with us because they had boys who were too young to make the journey. Our ages ranged from 3 to 15. The majority of the boys were about my age. We had to hide and sleep during the day and walk at night. We walked directly to Kenya, where the United Nations was waiting for us in the Juja region. Not everyone survived the journey. There was no real food for many days, and people ate whatever they could find along the way. Several people died of hunger, while others were taken by animals.
We arrived in Juja in 1991. We lived in Juja for 10 years. On December 29, 2001, I left Kenya and came to Lansing, Michigan, with two other guys. We stayed with an American family. We met them for the first time at the airport, and they helped teach how life in the U.S. is different.
Virginia Mitchell: You recently became a U.S. citizen. Can you tell me about that experience?
Maurice: This process began around 1994. Eventually we became permanent residents of the U.S. After five years, we were eligible for citizenship. When our applications were finally approved we had to submit our fingerprints, and then wait even longer. Eventually, we received our citizenship ceremony letter. People from the MDC talked to a judge to get me a private ceremony. I had my ceremony at a junior high classroom in Detroit. One of the boys in the class had raised $2,000 for the MDC, and they were excited to be a part of the ceremony.
It's great being a citizen now, because I can travel and have a passport, and also I feel great because I know I can stay here. And, in the future I want to be able to contribute to something good, in the way that people have contributed to me.
Charlton Breen: Last week in Beijing, Lopez Lomong was chosen by Team USA to carry the flag at the parade of nations during the opening ceremony. How do you know Lopez, and what was it like to watch him at the ceremony?
Maurice: I have known Lopez since we lived together in the same compound in Kenya. We played games together. I came to the U.S. first and he came later to Syracuse, New York. He tried out for the Olympics in Oregon, then trained in Colorado. We were together again in Colorado, because my cousin graduated from college there at the same time.
It was very exciting to see him on TV. He means a lot to me and to all of us back home in Sudan. We are very proud to see him representing the USA. It sends a message that people can come from anywhere and achieve their dreams. But we didn't actually dream this dream when we were living together in Kenya. Who thought this would be possible? When we were back in Kenya, these types of dreams just didn't occur because we didn't know they could. We are very thankful to the United Nations and the U.S. government for giving us the opportunity to come here.
Virginia Mitchell: What do you think of attempts to link the genocide in Darfur with the Beijing Olympics?
Maurice: Because of a lack of coverage in the media, not everybody knew that there is a link between Sudan and China, but recent news regarding the Olympics is helping people to learn about the link. I think it is very helpful to link China to Sudan to try to get China to help the people of Sudan. I hope the Olympics can bring about a new agenda that will be helpful.
Virginia Mitchell: President Bashir has recently been indicted by the International Criminal Court. How did you feel when you heard this news?
I felt great. I won't lie. I felt great. He is a part of the problem. For the ICC to do this, it shows where the responsibility lies for the war in Darfur. I will be happy for him to appear in court. He should be held accountable for his actions.
Charlton Breen: How do you think the international community is doing with efforts to end genocide in Darfur?
The world is doing a good job of trying to help Sudan, but the problem is with the Sudan government. The international community is trying its best.
Virginia Mitchell: You have spoken at several events for the MDC. Is it difficult for you to recount your experiences?
Maurice: It is not difficult to tell people. My mind can still remember what happened. I think people need to know. I feel good letting people know my story.
Charlton Breen: You are about to become a junior at Grand Valley State University (GVSU). What challenges have you faced since starting college?
Maurice: Just getting through it. It takes a long time. I wish I was a senior! I want to be done, so that I can have a chance to do something more. The hardest part, though, is the financial situation. I work when I am not in school, and they (GVSU) tell me I make enough money to pay for my school expenses, but in reality, I don't have enough money after my other expenses to pay tuition. The little money that I make that is left over after expenses, I need to send home to my family in the Kakuma refugee camp in Kenya.
Virginia Mitchell: How is life for your family these days?
Maurice: I just talked to them last week. The conditions in Kakuma are really bad. People are getting killed. You can't walk around by yourself or at night. The U.N. is still there, but their rations are too small. There's not enough food or clean water, so I send them money so they can survive.
Virginia Mitchell: Do you miss your home in Sudan? Do you plan to return there one day?
Maurice: Yes, I miss my family and my community. But the situation is not good. Hopefully I will visit around Christmas this year. If everything goes right, I can go in December. I am still waiting for my passport, but the people of Aldersgate United Methodist Church in Grand Rapids have sponsored my airfare.
Charlton Breen: What are your dreams for the future?
Maurice: I have the same dream as Lopez to run in the Olympics. I was running track and playing soccer. But I had to change my plans to just try to support myself, and that kind of killed my dream of running. My new dream is to finish school and to work for an organization and work with children. Because organizations helped me once, so I want to help people, too. I just want to help and contribute, either to kids in Sudan or here in the U.S. I also want to write a book detailing my journey and what I had to go through to get to where I am now.