Engaging in international travel to participate in political justice — especially anti-apartheid issues in the Mid East and Africa — is a bit like playing big league baseball. The "player" must submit to an excellent coach, pick a good team, learn the essential rules about foreswearing violence, not getting caught stealing by the opposition, and arrive home safely with limited physical or psychic injury.
One of the "hall of fame" coaches still is Archbishop Emeritus Desmond Tutu who wisely said, "if we had taken up arms when things appeared hopeless in our struggle against apartheid in South Africa we would all be dead and apartheid would still exist."
The Archbishop was in town last week for a CBS webcast interview along with American Episcopal Presiding Bishop Katherine Jefferts Schori on the "Mission of the Church." He reinforced that "mission is about receiving the love of God in Jesus and then going to the world to make love incarnate" rather than trying to resolve the world's terrible conflicts with military interventions.
He emphasized that "with but a fraction of the billions spent on atomic bombs and other armaments we could feed all the hungry of the world and make sure that all children had clean water."
Bishop Jefferts-Schori agreed noting, "when we see our own woundedness we can in our vulnerability heal others."
And it was more than coincidence that their message coincided with that of Father Michael Lapsley, the former chaplain of the military wing of the African National Congress in the late 1980s.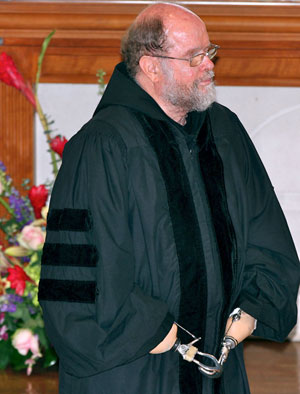 He received an honorary doctorate at the Virginia Theological Seminary commencement for his "healing of memories" and restorative justice ministry around the world. Lapsley received a packet bomb, from a so called "Christian brother" in his Zimbabwe office while in exile in 1990, three months after Nelson Mandela was freed. It blew off his hands, burned him severely and blinded him in one eye. The injuries were nearly death dealing.
But with healing support from around the world his spirit and mission were transformed. Today once again Lapsley is a compelling pacifist and proclaims "the good news to the whole creation" (Mark 16:15) in regard to peace, justice and economics. He bears witness, as he gestures with hooks for hands, preaching as he did in the VTS chapel, "Apartheid was an option for death carried out in the name of the Gospel of Life."
The apartheid state was not Christian. South Africa was anything but a reflection of God's peaceable kingdom. Lapsley has made the journey "from being a victim to becoming a survivor and finally being victorious." Indeed for the sake of others who are scared by injustice.
Now across the world, in the company of other faithful South Africans, Lapsley proclaims "the possibility of breaking the chains that turn victims into victimizers who are Good Friday-like people who crucify one another. Now they [we] can become rather Easter people rising to new life with Christ but with wounds still visible".
In America, he works mostly with homeless wounded war veterans, leading him to say, "I am convinced that the soul of the USA has become infected by endless wars. Can we not see what militarism in all its manifestations is doing to us? Like economic equality, healing of the memories is an issue whose time has come in the human family."
The gracious Muslim South African Ambassador to the U.S., Ibrahim Rasool — a former prisoner of apartheid — spoke with conviction in a "faith conversation" at his home on the day after Lapsley received his honorary degree.
Rasool said that Lapsley's witness in his body and Jim Wallis's commencement address to the VTS graduates, "give me a theological framework for which I have been searching for many years. For virtue is never found in the extremes created by absolute certainty on one hand or too much doubt on the other, either recklessness or cowardice, but rather in the perfect middle of living for a cause in community rather than dying for a cause alone. Too often we drink the poison hoping that someone else, our perceived enemy, will die!"
My week with our winning South African coaches reminded once again, that without deep healing and supportive recuperative community ("team"), political violence ends in inter-generational domestic and societal abuse. Those who think themselves victims become the victimizers. Old wounds come back to destroy us if the healing Good News is not applied at the deepest personal, societal and creation levels
God bless and empower the anti-apartheid forgivers and healers who continue to coach us and give us hope even in the midst of dispiriting domestic politics, misguided spending priorities, and intractable international conflicts.
They, Desmond Tutu, Michael Lapsley and Ibrahim Rasool, might well say with the Apostle Paul (Ephesians 3:13) "I ask therefore, not to be discouraged because of my suffering for you, which are [for] your glory".
Tom Getman first met Desmond Tutu in Senator Hatfield's office in 1977 and Michael Lapsley in his Zimbabwe office in 1989 and has been visiting South Africa since 1982.
Father Michael Lapsley photo via Virginia Theological Seminary
Got something to say about what you're reading? We value your feedback!