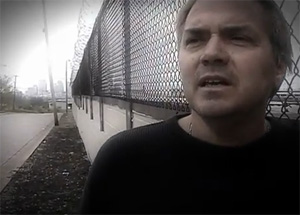 I was recently arguing the case of my friend Rosanna with an Immigration and Customs Enforcement (ICE) official over at the Nashville Municipal Auditorium, a major performance venue in Nashville, Tennessee. Rosanna was about to be deported back to Honduras for the second time in 12 months. The official knew Rosanna's case, and her claims (that she was brought to this country against her will at the age of 14, kidnapped and forced into prostitution), and he was patiently explaining the complex inner-workings of the immigration system to me.
Shifting gears, he looked at me and said, "What's your solution?" I replied, "I don't know, perhaps open borders." After this, he looked at me with the realization that he had just wasted nearly an hour of his life. He pointed out that no one seriously takes the position of open borders, and that if we had open borders, hordes of people would cross our southern borders!
He asked me, "How many Mexicans are too many? One hundred thousand? 1 million? 10 million? How many?"
About this time, Jim Wallis asked me to come and sing my song "Rosanna" at the Festival of Homiletics held in Nashville, as a preamble to his remarks on the subject of immigration. His speech moved back and forth effortlessly from theology to policy and reform, and it was filled with colorful anecdotes, humor, and portraits of the plight of the disenfranchised in our midst. I had had the pleasure of working with Jim before, and so I, along with 1,000 or so others in the great Baptist Church, sat in rapt attention.
As Jim closed his remarks, he quoted the final stanza from my song, "Rosanna" (featured on the God's Politics Blog):
One day we all have to cross the waters,
With our brothers, sisters, our sons and daughters,
Just as sure as the moons swims in the Rio Grande,
One day she'll walk through that door,
Hallelujah Hosanna, welcome home Rosanna
After speaking these lines from my song, Jim's voice suddenly shifted its tone and seemed to come from a deeper chamber. He thundered, "One day we all will come to a border. Will you be allowed to cross over? Will you be documented or illegal in that Promised Land? Will your sins be held against you at the border? We can only pray that we will be accepted into that far country!"
There was a surge of electricity running through the audience, as the preacher became the prophet and allowed us, if only for a moment, to peer through the lens of God's mercy. The careful bricks and mortar of policy analysis, and even reform, crumbled before Joshua's trumpet! Suddenly it all seemed so clear. The God of Amos, the God of the Beatitudes does not count anyone as illegal, nor acknowledge the privilege of nation-states to turn the poor and the needy away at the edge of their imaginary borders! What is a nation-state anyway? The idea seemed freeing, if not revolutionary. I could not imagine Jesus accepting anything less than open borders!
Fresh off of hearing Jim's speech, I felt that with God's help, everything was possible, even open borders. However, within days and even hours of that transformative event, amnesty and immigration reform seemed the byproducts of Jim's reflection, and not open borders, which once again seemed an absurdly naive concept.
Perhaps this is how it has always been with Jesus' followers and disciples. It may be that Jesus' proclamation of the kingdom was always meant to move us, like Martin Luther King Jr.'s "arc of history" bending towards justice, all the while taking into account our broken nature and our broken world. So this is the work at the border: to build compassionate legislation and reform with the vision of a promised land, of a kingdom of God before us like a northern star.
I am a Christian, by birth and baptism, by my upbringing, by practice, meditation, and repetition. The stories of the Bible are my stories. Jesus is my Jesus. Still, I find that I am always walking towards Jerusalem, but I am never actually entering at the border, through the gates. I'm not sure that I ever will. In my faith I feel very much like an immigrant soul looking across a wall, or a river, towards some land of plenty -- of milk and honey. Jesus' kingdom seems unattainable, and there is no documentation available. Our only hope at the border is grace.
Marcus Hummon is a Grammy winning songwriter, recording artist, playwright-composer, and children's book author who has been living in Nashville for the past 24 years. You can connect with his work on marcushummonmusic.com. He is married to Rev. Becca Stevens (founder of Nashville's MAGDALENE and THISTLE FARMS) They have three sons, Levi, Caney, and Moses.