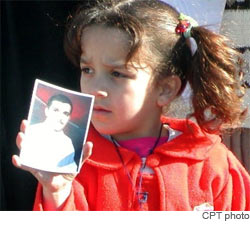 Two brothers, Jamal* and Khalid,* were arrested randomly in a raid of their neighborhood by Iraqi Special Police Forces, the Palestinian ghetto in Baghdad. They were tortured and forced to confess on a television program to acts of terror they didn't commit. Other Palestinian refugees have been dragged out of their homes and killed.
Dalia* and Sara,* two sisters, along with other members of their family, were accused of funding the resistance and were detained in Abu Ghraib for nine months. One day their brother's dead and tortured body was brought into their room and thrown on their laps.
In Fallujah, four months after the November 2004 massive U.S. attacks in which 60 percent of the buildings were destroyed - including several schools and the main hospital - the southern half of the city was complete rubble. The Musa Abdulla* family, of 26 persons, was one of hundreds of families that had been forced to return and live in a tent next to the remains of their former home.
Hundreds of Palestinian refugees living in Iraq fled to the Syrian border because of threat to their lives. Only some were allowed to go to a refugee camp in Syria. Others were not allowed into Syria - but also not allowed back into Iraq - so have been living in tents in the no-man's land in-between.
Six-year-old Mohammed was playing on the gate in his front yard when he was shot in the head in the cross-fire of a gun-battle between U.S. Military and resistance fighters. He lost his right eye and the right side of his face is disfigured.
When the surge started, our former neighbor, Alia,* in Baghdad told our peace team, "The increase of U.S. military forces in the city only increases the hell we are living in." A month later her youngest son was injured when a bomb blasted in our former neighborhood.
As a long-time human rights worker, Hameed helped mediate between fighting groups on the streets of his city. He made several trips with a group of Shia, Sunni, and Christians into Fallujah in 2005 to develop peaceful relationships between the different ethnic groups. In 2006 he survived an assassination attempt. He knows that at any time he could be targeted again.
* Real people and situations, but names have been changed



Peggy Gish is a fulltime worker with Christian Peacemaker Teams, which seeks to enlist the whole church in organized, nonviolent alternatives to war and places teams of trained peacemakers in regions of lethal conflict. CPT initiated a long-term presence in Iraq in October 2002. She is the author of Iraq: A Journey of Hope and Peace.
Got something to say about what you're reading? We value your feedback!